Last updated on May 17th, 2023 at 11:21 pm
Porto is by far my FAVOURITE European city. I mean, I loved it so much I decided to have my destination wedding close by, in the Douro Valley. Are you ready to fall in love with this Portugal gem? Keep reading to unlock the BEST Porto 3 Day Itinerary.
This detailed itinerary will pack three days in Porto. However, I added additional information for an extra 2 days, so you can make a 3, 4 or 5 days in Porto itinerary.
I hope you enjoy this Porto itinerary! Make sure to read my blog post on Porto Itinerary Planning to organize your accommodation and transportation.
Some of the links in this post are affiliate. If clicked, I may receive a small commission at no extra cost to you.
Porto 3 Day Itinerary: The Best 3 Days in Porto
What to do in Porto, Portugal in 3 days.
Day 0: Arrive in Porto
Arrive in Porto, travel to your hotel or Airbnb and get yourself situated. Head to a lovely dinner and bar close to your Airbnb. 
Continue reading this itinerary for inspiration on where to eat & drink in Porto!
Enjoy your evening.
Day 1: Full Day in Porto; Porto's City Centre / Baixa Neighbourhood
MORNING
1. Breakfast
Get an early start to your day! If you are a breakfast person, enjoy a fresh breakfast at your hotel or head to a close by cafe. 
Some breakfast recommendations that will be close are: Café Guarany, Café Aliança & NOLA Kitchen. 
2. Avenida dos Aliados
Walk along this gorgeous avenue and admire the beautiful architecture. This avenue is known for its large buildings, Porto's City Hall, fancy hotels, cafes (although, beware, these will be overpriced and touristy), shops & banks.
Step into what is acclaimed to be the world's most beautiful McDonald's at Liberdade Square (Praça da Liberdade). 
Stroll through this avenue at your own pace. Admire the monuments and take in Porto at it's city centre! 
3. São Bento Railway Station
Walk a few steps south of the Monument of D. Pedro IV (a former King), and you will reach the iconic São Bento Railway Station.
You may be asking, why is she sending me to visit a train station as a tourist stop, but trust me, walk inside and you will see for yourself. It is GORGEOUS. 
4. Majestic Cafe
Ok, this is a tourist HOT SPOT. It is famous, firstly, due to the fact that J.K. Rowling spent a lot of time here while writing Harry Potter. (If you are a Harry Potter fan, go and see it. You'll unlock that nostalgic feeling).
If you are not a Harry Potter fan, this café is still worth the visit. It is beautiful and something to be admired. I don't recommend purchasing anything here, as it will be over priced and there are better tasting things just around the corner!
AFTERNOON
These were my top two researched cafes that served franceschinas. This is Porto's local dish; a sandwich with ham, sausage, cheese. Topped with more cheese & sauce, and occasionally a fried egg.
I recommend ONLY getting one to share. The dish/sandwich itself is HUGE. If you love it, order more! Or try it at the next cafe.
We tried this at Lado B Café, it was cheap & delicious.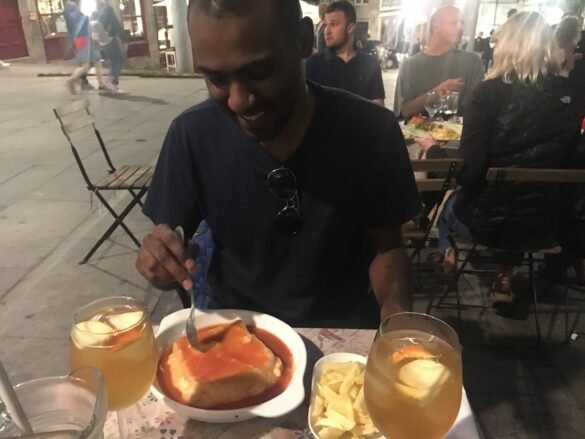 *This photo was taken elsewhere – but here is a reference of the dish*
6. Dessert at Natas D'Ouro
You are probably full, I get it. But make some room, you are in Portugal and you are going to enjoy and try all the FOOD!!!
Pastel de Nata (Portuguese tarts) are truly special. If you have been in Portugal for a few days now, you have most likely consumed at least 1 per day at this point. Alternatively, if this is one of your first days, please visit Natas D'Ouro.
There are two locations, however, I am sending you to the one a couple steps away from your lunch spot. 
I personally recommend trying the nata with port wine, which is specific to this shop.
7. Livraria Lello
One of Porto's top tourist destinations is Livraria Lello Bookshop, titled, "the most beautiful bookstore in the world". I can agree, it is up there in beautiful bookstores. Actually, it's probably the most beautiful one I have personally seen, so I guess the title holds up.
Again, if you are a Harry Potter fan, this place is for you. J.K. Rowling was inspired to create the moving staircases of Hogwarts from seeing this book store. 
Livraria Lello is overcrowded and a tourist hot spot. If you are satisfied with the images you see online, you probably don't have to visit. However, I did visit, I thought it was nice, but seeing it once was enough for me!
Hours: 9:30 AM – 7:00 PM daily
Tickets: 5 Euros per person
Recommendation: Purchase online & schedule your visit ahead of time to avoid waiting around. Booking is for every half hour.
8. Torre dos Clérigos (Clérigos Tower & Church)
I am sure you have seen this tower at some point during your day in Porto. It is hard to miss, it is quite tall and sticks out like a sore thumb. Clérigos Tower is seen as one of Porto's important symbols. It was built in the mid 1700's and has stood the test of time!
So, are you ready to do some exercise? You are now going to be walking up the 240 steps to get the best photos of Porto. This is not accessibility friendly, please keep that in mind.
Hours: 9:00 AM – 7:00 PM
Tickets: 
8 Euros to climb the tower (church entrance is free) 
Children less than 10 years = FREE
Guided Tour: 9.5 Euros (I personally don't think this is needed).
Porto Card: 
9. Igreja do Carmo
While it's still daylight, walk a couple blocks north from Clérigos Tower to see the gorgeous blue tiles of Igreja do Carmo. This is where everyone's Porto Instagram photos are coming from, I guarantee.
Ok, I bet you're hungry now. Let's go eat!
EVENING
10. Dinner
Literally being in the centre of Porto has it's perks. Just steps away from Clérigos Tower are many great restaurants. Check out; Taberna Folias de Baco, Chama or Adega Vila Mea. 
If you want to walk a little more, check out Lareira or Mito.
11. Drinks at The Gin House
Porto is famous for its Port, if you haven't had any yet, go and get some ASAP. Don't worry, the majority of this itinerary will be around Port wine (wine tastings & vineyard trips to come).
If you like gin, check out The Gin House, right across from Livraria Lello. This bar has so much gin to choose from and makes impressive cocktails! 
Enjoy your evening! Good night.
Day 2: Full Day in Porto; Baixa & Ribeira Quarter 
MORNING
1. Breakfast
Eat a hearty breakfast in the morning; offered to you by your hotel OR head to a nearby café for breakfast. 
You are heading back to Avenida dos Aliados (Aliados Avenue) after breakfast. Check out the cafes around here..
OR go and get another Pastel de Nata. This time visit the famous Fábrica da Nata (this is a chain found all over Lisbon, but also has two shops in Porto). Visit the one right next to São Bento Train Station.
2. Porto Walkers: The Classical Porto Walking Tour @ 10h45
Head to your meeting point on Aliados Avenue, in front of Burberry or Caixa Geral de Depositos 106. You will see people holding red umbrellas. Arrive 10 minutes before your reservation (10h35).
This walking tour will last 3 hours and you will visit; São Bento Railway Station, Santa Catarina, Batalha, Bridge Luís I, Cathedral (Sé), Barredo neighbourhood and end in the Ribeira Quarter (my favourite place).
Porto Walkers is FREE, but does require reservations ahead of time. Head here to make your reservation.
Porto Walkers offers two free walking tours. The Classical Porto Walking Tour begins at 10h45 every day. For this itinerary, I will be using this tour as an example. (Their Lifestyle tour runs at 15h30 daily and covers different areas of Porto).
Although walking tours are free, please tip the guides! They are so knowledgeable and happy to answer any questions you may have. The guides truly make the experience one to remember. 
AFTERNOON
3. Porto Cathedral (Sé Cathedral)
The walking tour will take you by Sé Cathedral. I recommend breaking off from the walking tour and spending some time exploring Sé Cathedral. If not, make sure to come back here after!
The Cathedral is gorgeous, and the Cloister is equipped with more of Portugal's blue tile art. Although the cathedral has free entry, I recommend spending the extra money to visit the Cloister. 
Hours: 
April – October: 9:00 AM – 6:30 PM daily

November – March: 9:00 AM – 5:30 PM daily

Closed on Christmas & Easter
Tickets: 
Free for Cathedral
Children under 10 years = FREE
4. Terreiro da Sé
Right next to the Sé Cathedral is a gorgeous square and lookout point of the city. You will most likely pass this lookout point on your walking tour, however, if you break off from them to explore Sé Cathedral, come back and enjoy some time here.
5. Funicular Dos Guindais
You are now going to head down to Ribeira Quarter to get some food (don't worry, I didn't forget about eating). 
Either walk down through the streets – which I opt for, or, you can take the Funicular Dos Guindais (located steps away from Sé Cathedral). This small cable car takes you down to the riverside for a small price.
Enjoy the views as you make your way down, you will see Dom Luís I Bridge and the Douro River.
I never did this when visiting Porto, I found it to be too touristy. However, if you want to get down to the river quicker, go ahead and try it!
I have attached a link that includes the Funicular, Two Hop On and Hop Off tickets & 24 hour Porto Tram.
Hours: 
Summer months: 8:00 AM – 10:00 PM (weekdays), 8:00 AM – midnight (Friday + Saturday)

Winter months: 8:00 AM – 8:00 PM (weekdays), 8:00 AM – midnight (Friday + Saturday)
Tickets: 
6. Late Lunch / Early Dinner 
Spend some time exploring Ribeira Quarter, the gorgeous Porto Riverside. This is easily my favourite part of Porto and the reason I fell in love with this city.
There is no shortage of restaurants and bars to eat at. A few to check out include; Jimão Tapas e Vinhos, Wine Quay Bar, Adega Sao Nicolau & Bacalhau.
EVENING
7. Cais da Ribeira & Ribeira Square
This Porto 3 day itinerary would be incomplete without Ribeira Square. Ribeira Square/Quarter is a UNESCO World Heritage Site and is a fun place to visit and hangout around. Stop by a bar and grab a drink or an ice cream cone after dinner.
Enjoy some port wine while looking out into the river! Or simply have more delicious food! 
8. Dom Luís I Bridge (A.K.A Luís I Bridge)
This bridge is a staple tourist destination in Porto. The views of the city are impeccable from this bridge. Dom Luís I Bridge bridge connects Porto with Vila Nova de Gaia over top of the Douro River. 
Spend some time here admiring Porto's beauty! 
Enjoy your evening by the Douro River. You deserve to relax after a busy day of walking!
Day 3: Full Day in Porto; Boavista, Cedofeita, Vila Nova De Gaia
MORNING
1. Breakfast
Wherever your heart desires! I am sure you know by now Porto has no shortage of amazing food.
2. Casa da Musica 
Casa Da Música has a different look than the rest of Porto. In European cities you expect older style buildings, cobblestone roads, etc. The building is modern, clean and new (opened in 2005).
This music hall is one of the top tourist destinations in Porto, however, it is farther away from the city centre. It is in the Boavista neighbourhood. 
We admired the building from outside but did not pay to take a tour inside. Casa da Música hosts tours in Portuguese and English daily. They also host regular concerts. Check that out if you are interested!
This is a great place to spend some time if it is raining in Porto.
Tours: *1 Hour in length*
11:00 AM in Portuguese

4:00 PM in Portuguese & English
Tickets: 12 Euros
3. Jardins do Palácio de Cristal
Head south from Casa da Música and towards the city centre to visit the lovely botanical gardens of Jardins do Palácio de Cristal. 
We took some couple photos at this park and we were truly in love with our entire experience here. Head to this blog to see some of our photos at this Porto garden.
Hours: 8:00 AM – 7:00 PM
Tickets: none – FREE entry 
AFTERNOON
4. Early Lunch 
Walk down to the Douro River from the gardens to have an early lunch at Papavinhos. A few other choices in the area are; Taberna Santo Antonio, Intrigo, Puro 4050, Cantinho do Avillez & Pregar.
5. Miradouro da Vitória
This viewpoint is close to many of the above-mentioned restaurants. Spend some time admiring the city and Douro River below. (The cover photograph of this blog post is this viewpoint).
6. Monument Church of St. Francis (Igreja de São Francisco)
This is another Porto World Heritage Site by UNESCO. I remember explaining this to people as a "church filled with gold". Pretty much that is what it is… haha. It is gorgeous, don't get me wrong.
If you aren't tired of visiting churches/monuments, make a stop at this Gothic church. We are going to Bolsa Palace next, so if you would prefer to choose one over the other (I would choose the Palace).
Hours: 
March – October: 9:00 AM – 7:00 PM

November – February: 9:00 AM – 5:30 PM
Tickets: 7.50 Euros 
7. Bolsa Palace (Palacio da Bolsa)
I highly recommend a tour of the Bolsa Palace while on your 3 days Porto vacation. The Palace has been around since the 19th century and is steeped in history! 
Hours: 9:00 AM – 6:30 PM 
Tours Length: 30 minutes
Tickets: 
12 Euros per person
7.50 Euros per student/senior
Children less than 12 years = FREE
LATE AFTERNOON / EARLY EVENING
8. Pilar Monastery (Miradouro da Serra do Pilar) Lookout Point
After admiring the beautiful Palace, head on over to Dom Luis I Bridge. You will be crossing the Douro River over into Vila Nova de Gaia to visit Mosteiro da Serra do Pilar.
The monastery itself is a UNESCO World Heritage Site. Majority of people visit for the gorgeous view looking over Porto. We did not visit inside when we went. However, if this interests you, you can get tickets there.
Spend as little or as much time as you'd like.
9. Winery Tours & Port Wine Tastings in Vila Nova de Gaia 
Port wine, the GEM of Porto. You cannot visit without trying this delicious drink.
Walk along the Douro River in Vila Nova de Gaia and I assure you that you will stumble into at least one winery. We stumbled into many… 
A few that offer tours: 
SO MANY!! I cannot list them all.
10. Dinner
Stay in Vila Nova de Gaia for dinner. Some options include visiting Mercado Beira-Rio (food market), or Restaurante Arco Iris.
Otherwise, cross back over into Porto's Ribeira district to try something you haven't had yet!
I hope you love your 3 days in Porto as much as we did. Let me know your favourite part!
3 Days in Porto Itinerary not enough? Add 2 More Days!
Day 4: Douro Valley Vineyard Tour with Cruise
As mentioned above, I HIGHLY recommend this tour. This was the greatest day of our Portugal trip and I would do it over & over again. It is well worth adding that extra day, 4 days in Porto is a great length of time.
It is a full day of wine, food, olive oil, honey, a boat cruise & meeting amazing people.
Click here for your Douro Valley Tour!
Day 5: Porto River Cruise & Walking Tour
Maybe you enjoyed your free Porto Walkers walking tour so much that you want to try the other one! Remember, there are two to choose from.
Spend half of your day on the walking tour and the other half doing a boat cruise along the Douro River.
Click here to book a Douro River Boat Cruise!
Pin it for later!
---
Happy Travelling!
Joanna Neander is the author and creator of Plan Before Land. She is dedicated to creating detailed travel itineraries from around the world. Joanna's most visited continents include, North America, Central America & Europe. Asia coming soon! Join along on Joanna's travels!