Last updated on October 2nd, 2023 at 02:05 pm
Welcome to Toronto, one of the greatest tourist destinations, and the city I get to call home. As someone who was born and raised in Toronto, this city has always been a special place to me. Growing up, I was surrounded by vibrant and diverse communities that helped shape my worldview and values today. This Toronto 2 day itinerary will have you exploring, eating, learning and everything in between.
The food, culture and entertainment in Toronto is unmatched, making this the perfect destination for your next vacation. 
Throughout the years, family and friends from Slovenia and the UK would come to visit us for summers and holidays. Helping them plan their Toronto itinerary was my favourite thing to do. 
I love to see my city through the eyes of others and what better way to do that than by visiting all of Toronto's hot spots and hidden gems!
Whether you're a first time visitor or a Toronto regular, there is so much to discover in this lively city. This post will take you through some of the top things to see and do in Toronto in 2 days, so get ready to explore this incredible city. 
Some links in this Toronto 2 day itinerary are affiliate links. If clicked, I may receive a small commission at no extra cost to you!
Busy and don't want to forget? Pin The Toronto Two Day Itinerary for later!
How many days in Toronto?
The number of days to spend in Toronto is totally dependent on your interests and travel style. This itinerary will focus on 2 days in downtown Toronto.
Two days in Toronto might not be adequate for you. Don't worry, I have added enough here to spread out over a few days, with added day trip ideas on top! However, if 2 days is all you have, let's make them count! 
Recommended length of stay in downtown Toronto, visiting Toronto's hottest tourist attractions: 2-4 days
Recommended length of time if visiting downtown AND outside of the downtown core, ie. Niagara, Wonderland: 4 days – 1 week+
Getting to Toronto
There are several ways to get to Toronto, depending on your starting location and personal preferences. Here are some of the most popular options. 
Flying to Toronto
Toronto is served by two major airports, Toronto Pearson International Airport (YYZ) and Billy Bishop Toronto City Airport (YTZ). Many airlines offer flights to Toronto from major cities around the world.
As someone who runs an Airbnb close to Pearson International Airport, the majority of our tenants are for long Toronto layovers. Using a long layover in Toronto is a great way to spend a few days in our city! Although Pearson (YYZ), is our international airport, it is located on the far west side of Toronto. YTZ, Billy Bishop airport is downtown, with easy access to majority of Toronto's tourist destinations. 
When plugging in "Toronto" into the search bar of flight searches, use the code "YTO", this will include both Toronto airports (and some others in the Greater Toronto area), giving you more options of flights to choose from!
I recommend using Skyscanner to search for flexible and cheap flights to Toronto. If you're not set on a flight just yet, set an alert to watch price fluctuations. 
Taking a Train to Toronto
VIA Rail Canada is a train operator to Toronto from many cities in North America. The train journey is a great option for those who are not fond of flying. Keep in mind, train trips can be just as expensive as flights, however much longer. 
VIA Rail can be quite an enjoyable experience; take it from someone who took the train to and from university for four years. However, in my opinion, the time saving factor of flying will always win. 
Taking a Bus to Toronto
Bus companies like Megabus and Greyhound offer services to Toronto from cities all over Canada and the United States. This is usually one of the most affordable options. For those travelling under a tighter budget, check these out. 
Driving to Toronto
Toronto is easily accessible via major highways in North America. However, keep in mind that traffic can be VERY heavy (and unbearable) during rush hours. If driving is a must for you and you need to rent a car, head over to Rental Cars for discounts!
Trust me, I drive to work in downtown Toronto in peak hours and I do not recommend it!!
Ultimately, the best mode of transportation for you will depend on your budget, travel preferences, and starting location.
Getting Around Toronto
Walking in Toronto
Walking in Toronto is a great option for jumping from tourist attraction to the next! You get to fully immerse yourself in the city and go off the beaten path. 
However, with two days in Toronto, walking everywhere may not be efficient or fast enough to see the major tourist attractions. Therefore, a combination of walking and transit would be the best option!
Transit in Toronto
Toronto Transit, (TTC), includes the subway system, streetcars and buses. In order to access this transportation system, you must have a Presto Card (pay as you go system). 
There are a few options for Presto Cards, a single fare ticket, for ~$3.25 CAD, a two ride ticket for ~$6.50 CAD and the day pass ticket. 
For easy transportation, I recommend the Presto Day Pass Ticket for $13.50 CAD. Easily get from place A to B, and back without worrying about filling your card or paying for more tickets. 
Children 0-12 years of age are FREE.
For purchase, the Presto Card is available at any subway station and/or any Shoppers Drug Mart store. Click here to review prices before you buy!
Driving & Parking in Toronto
If you are spending a couple of days in Toronto, I do NOT recommend driving. Driving is a great way to get to the outer regions of Ontario, but within the city centre, walking and taking public transit are all you need to have a great day!
If driving is a must, try to drive outside of rush-hour hours, ie. after 9:30 AM and before 3:30 PM. 
Parking in Toronto is quite expensive, stick to regulated parking lots, ie. Impark and Green P Parking lots. You can expect to pay anywhere from $5.00 – $25.00 CAD per parking lot. Parking can cost upwards of $30.00 if there is an event or sports game occurring in the city centre that day. 
Street parking is available in Toronto, ensure you pay the metre and look at the signs indicating the allowed times, as tickets are given out frequently for violating street parking rules! Take it from someone who didn't read the fine print and just landed myself a $50.00 ticket, ugh!!
Where to Stay for your Toronto 2 Day Itinerary
If visiting Toronto for two days, it is recommended you stay within the city centre to have easy access to the major tourist attractions. Majority of Toronto hotels are within the city centre and/or entertainment district. 
Some City Centre hotel options include; 
Luxury Toronto Hotels
Coming in at the number 1 luxury hotel in Toronto is the Fairmont Royal York hotel. This hotel opened in 1929 and has since become a staple in Toronto's skyline, located right across from Union Station. Many celebrities, politicians and royals have stayed in this hotel. The Fairmont Royal York is one of the most elegant buildings in Toronto with exemplary service.
You can check prices out for The Fairmont Royal York here. Expect to pay a hefty price if choosing to visit, average prices range from $400.00 – $600.00 CAD per night.
Fun fact, when my grandfather immigrated to Toronto from Croatia, this hotel was the tallest building in Toronto. Which is wild to think about now, as it has 28 floors… 
Another luxury hotel in downtown Toronto is One King West Hotel & Residence. The location, amenities and accommodations help this hotel stand out.
Expect to have the most modern amenities, fitness centre, restaurant and bar! Some rooms come equipped with full kitchens to help cut costs on food (if that's your thing).
One King West hosts many events, in their grand ballroom.
Grab a drink and head to their rooftop terrace that boasts sweeping views of Toronto's skyline.
Check out booking information for One King West Hotel & Residence here.
Average prices for One King West are $400-$600 per night.
Mid-Range Toronto Hotels
The Novotel Toronto Centre is a modern hotel in the heart of downtown. The hotel is within walking distance to all of the popular tourist attractions on this itinerary; Distillery District, CN Tower and St. Lawrence Market.
In addition to the location and modern amenities, this Toronto hotel is known for committing to sustainability and eco-friendly practices. They use energy efficient lighting, appliances and more!
Check out prices and booking information for The Novotel Toronto Centre here. Average prices range from $200 – $400 per night.
Boutique Hotels in Toronto
The below listed hotels are outside of the city centre, however, close enough that you are able to get to tourist attractions via public transport!
This boutique hotel is in north Toronto and is located about 2km from the subway station. Don River Villa Boutique Inn is a great place to stay if you are wanting a quiet neighbourhood surrounded by greenery!
I recommend getting out of downtown Toronto at some point while visiting. There is so much more to see and do!
Prices for Don River Villa Boutique Inn are around $150 – $220 per night. Click here for Don River Villa's pricing.
Elegant Suite at Bloor/Bathurst is a bed and breakfast in Toronto. It is steps away from Bathurst subway station, which will help you get down to the major spots quickly.
This hotel is also closer to Casa Loma than the other hotels and tourist stops, so if Casa Loma is at the top of your list, consider this location.
Prices range from $170.00 – $250.00 CAD per night, click here for more details and prices.
Budget Hotel Toronto
Budget hotels are quite hard to come by in the downtown core. If you do find one, they most likely have a low rating and are not worth the headache. I don't even want to share the ones I have seen here.
I recommend looking at hotels along the TTC subway lines. You will be able to find something more budget friendly. Although farther out of the city centre, the commute will be doable on the subway!
I recommend Airbnb or Vrbo in Toronto for more budget friendly options.
Important Resources for your Toronto 2 Days Itinerary
Toronto CityPass costs $99.00 CAD for adults (ages 13+), and $74.00 for children (ages 4-12).
The Toronto CityPass is a great way to see the city for cheaper. The pass includes entrance to the CN Tower, and four of the following; Ripley's Aquarium, Royal Ontario Museum, Casa Loma, Ontario Science Centre and/or City Cruises Toronto (starting May 1st). 
You can use this pass for 9 consecutive days after the first day of use. If you are planning to visit at least 3 of the above mentioned tourist sites, you will be saving with the CityPass. Therefore, the CityPass is recommended for 2 days in Toronto, if you are able to visit a minimum of three sites.
Toronto's Hop-on Hop-Off Bus is a great choice if you are not comfortable with the transit system in Toronto, and want to hit up most of the tourist sites. 
The ticket includes; a Harbour & Islands Cruise ticket (a boat cruise that overlooks the skyline), 24 hour ticket for the Hop-on Hop-Off Bus, a live guide and 20 stops!
The bus starts at Yonge-Dundas Square and visits these above-mentioned sites; Casa Loma, Royal Ontario Museum, Chinatown/Kensington Market, The CN Tower (with access to the Aquarium), St. Lawrence Market and Distillery District. 
Planning to visit the Royal Ontario Musuem (ROM), and Art Gallery of Ontario (AGO)? If you are purchasing general admission for both, purchase this ticket here for a discount combination ticket!
Don't forget, those aged 25 years and younger, get free entry into the AGO! Continue reading this itinerary for more information on the ROM and AGO.
Toronto 2 Day Itinerary 
Dive into this 2 days in Toronto itinerary where you will visit world-class museums, art galleries, scenery, trendy neighbourhoods, unique shops and so much more! 
For meal options in the city, head to the end of this itinerary. I will list my FAVOURITE places to eat as a local. 
Day 1 in Toronto
No trip to Toronto is complete without a visit to the famous CN Tower. The CN Tower is the tallest free standing building in the western world, and is a staple in Toronto's skyline. It can be admired from below, from afar or from inside the tower itself… If you are a thrill seeker, you can even experience the CN Tower from ABOVE (read more to learn how)! 
Head inside the tower to take the 1-minute elevator up, 1136 feet high! On a clear day, you will be able to see Niagara Falls from the top. 
The CN Tower is open daily from 9:30 AM – 9:00 PM. Tickets can be purchased online on their website up to 30 days in advance, this is recommended to ensure your spot! Tickets are for timed entry. 
There are two tiers of tickets; general admission and general admission with SkyPod entry. The SkyPod is the CN Tower's highest observation platform, and in my opinion, (for only $10 more), it is worth it! 
If you are daring… Try The CN Tower's Edgewalk! Walk outside, hands free, on a five foot ledge, on top of The CN Tower for 30 minutes, 116 storey's high! If you are able to complete this walk, you will have completed a World Record for the highest external walk on a building!
CN Tower Local Tip
If you reserve a dinner at 360 Restaurant (CN Tower's restaurant), your tickets for admission into The CN Tower are free of charge, as long as you spend at least $75.00 CAD on food, per person. 
As a Toronto local, I have never been fond of going up the CN Tower. I much prefer to sit back and look at it from a Blue Jay's game below. However, it is a true staple in Toronto tourism and I understand the allure. 
How much time should I spend at Toronto's CN Tower?
To be able to visit both platforms and admire the views, aim to spend around 1.5-2 hours.
Is The CN Tower worth visiting?
100%, it is Toronto's no. 1 tourist destination and what makes Toronto unique!
Getting to The CN Tower via TTC/subway
The closest station is, Union TTC Station.
Parking at The CN Tower
There is parking at Metro Toronto Convention Centre (entrance on Lower Simcoe Street), 5 mins walk away.
CN Tower Tickets
See ticket information on their website.
General admission (with or without SkyPod): Tickets range from $14.00 CAD (child) – $53.00 CAD (adult).
General admission for Edgewalk: Tickets cost $199.00 – $225.00 CAD (range depends on demand), and are only available to those age 13+.
CityPass: FREE entry included in your pass!
Ripley's Aquarium of Canada is one of Toronto's most FUN and educational tourist attractions! Walk through the dangerous lagoon, a tunnel where the sharks swim ABOVE you! Sit back and watch divers do live feedings two times per day and if you feel like learning, the aquarist does a talk on weekdays to teach about our world's sea-life and oceans.
Ripley's has two floors and a multitude of exhibits with different species of sea creatures; fish, sharks, seahorses & so much more. Be mesmerized while watching the jellyfish swim in neon lights, see Finding Nemo in real life and get up close and personal with stingrays.
Ripley's Aquarium is open daily, year round from 9:00 AM – 9:00 PM. Peak times for the aquarium are between 11 AM – 2 PM, try your best to go around these hours. The aquarium frequently hosts special events that call for a later closing time, 11:00 PM. 
Ripley's Aquarium Local Tip
The second Friday of each month, Ripley's Aquarium hosts a jazz night. Enjoy some music, drinks and fish! The tickets are the same price as general entry, so try and visit this event for an unforgettable experience under the sea!
How much time should I spend at Ripley's Aquarium of Canada?
2-2.5 hours
Is Ripley's Aquarium of Canada worth visiting?
If you have 2 days in Toronto, Ripley's aquarium is definitely worth the visit. 
Getting to Ripley's Aquarium of Canada via TTC/subway
The closest station is Union TTC Station.
Parking at Ripley's Aquarium of Canada
There is no parking at the aquarium, use Toronto public parking lots close by.
Ripley's Aquarium Tickets
See their website for ticket information & more!
General Admission: Tickets range from $12.50 (child) – $44.00 (adult) 
CityPass: Included entry with the CityPass!
St. Lawrence Market is a number ONE destination when visiting Toronto. It has been classified as one of the BEST food markets. However, St. Lawrence Market is not just a food market, it has been around since the early 1800's and is part of Toronto's DNA. 
Great food, farmers markets, restaurants, specialty food vendors and more can be found here.
They are open from 9:00 AM – 7:00 PM on Tuesday – Friday, 7:00 AM – 5:00 PM Saturdays and 10:00 AM – 5:00 PM on Sundays. Closed on Mondays.
St. Lawrence Market Local Tip
Try the peameal bacon sandwich at Carousel Bakery. St. Lawrence market has been making this for years. 
How much time should I spend at St. Lawrence Market?
~1.5 hours is enough to get a great experience at St. Lawrence Market.
Is St. Lawrence Market worth visiting?
Do you like food? Then yes, 100%, it is an amazing food market. 
Getting to St. Lawrence Market via TTC
There is no close subway station. It is an 18 minute walk from Union Station, or ride the 504 King Streetcar east (exit on King & Jarvis) and walk south for 5 mins.
Parking at St. Lawrence Market
Green P Garage at Lower Jarvis & The Esplanade.
Tickets for St. Lawrence Market
It is completely free! No cost. However, if you are a foodie, check out this St. Lawrence Market tour that offers food samplings throughout the world-famous market. The tour includes; coffee, drinks, famous sandwich samples, maple candies & more! 
This Toronto Victorian-era neighbourhood is a hugely popular tourist attraction. It is steeped in history (a national historic site of Canada), 10 cobblestone streets and 19th century buildings. Walk back in time through this pedestrian-only area.
Visit some of the 40 boutique shops, jewellery and clothing stores, or any of the one of a kind shops! If you're lucky, you may catch a live performance while strolling through. 
When your legs get tired from walking, head to any of the restaurants or cafes in the area; my favourite being, El Catrin Destileria. El Catrin serves traditional Mexican cuisine with a gorgeous, artistic backdrop indoors and a year-round heated patio outdoors. 
Distillery District Local Tip
Every year at Christmas, the Distillery District hosts the most elaborate Christmas market. If you are visiting during the holiday season, be sure to spend some time here for hot cocoa & Santa. It is a magical display and well worth the visit.
How much time should I spend at the Distillery District?
1-2 hours is enough time to spend at the Distillery District. 
Is the Distillery District worth visiting?
100%, yes!! Great historic district, full of life, history and delicious food.
Getting to Distillery District
Similar to The St. Lawrence Market (504 King Streetcar Eastbound), get off at Parliament Street. OR, 20 minute walk from Union Station.
Parking at the Distillery District
Many parking options listed here.
Distillery District Entrance
FREE! There is no cost to visit the Distillery Historic District.
This is a great neighbourhood to take a walking tour! This 1 hour walking tour is of great value, check it out here!
Day 2 in Toronto
A trip to Toronto is incomplete without visiting Toronto's Royal Ontario Museum (ROM). History, art and culture lovers will absolutely relish in this gorgeous museum. 
The ROM has many exhibits and galleries to explore. Chinese architecture, Roman sculptures, dinosaurs, Egyptian mummies, Middle Eastern art and Indigenous cultural pieces are a few of the exhibits you can enjoy.
Don't leave the ROM without walking through the bat cave. This is a family favourite!
ROM Local Tip
The ROM is

free

on the

3rd Tuesday night of each month

(from 4:30 PM – 8:30 PM).  

Every so often, The ROM hosts an event for ages 19+, called

ROM After Dark (RAD)

. Tour the museum's exhibits with food & drink in hand, enjoy the DJ booths tunes, watch some art performances and more!

Tickets must be purchased in advance on their website, check ahead of time if an event lines up with your trip!
How much time should I spend at the R.O.M.?
2-3 hours
Is the R.O.M. worth visiting?
Yes, especially for museum/history/culture lovers!
Getting to the R.O.M.
The R.O.M. has its own TTC station, making getting there by TTC very convenient; Museum Station. Also able to walk from St. George Subway Station.
Parking at the R.O.M.
Closest parking lots; 2 Bloor Street East (Yonge & Bloor), Bedford & Bloor Green P and Cumberland Parkade (148 Cumberland St.)
ROM Tickets
General Admission: Entry ranges from $14.00 (child) – $26.00 CAD (adult). Purchase your ROM admission voucher here!
CityPass: Included free entry with Toronto CityPass!
If you are planning to visit the ROM & the Art Gallery of Ontario (AGO), check out this combination ticket to save $$$!
Love to shop? Want to shop and visit a tourist attraction? Well, here you have it, the Eaton Centre is the largest mall in downtown Toronto with more than 250 stores! This tourist attraction is the most visited mall in Canada and has four floors of shopping, dining & more! 
If you are not in the mood to go shopping during your Toronto vacation, just take a quick walk through this mall to go from Nathan Phillips Square to Yonge-Dundas Square (or vice versa). 
You can also access The Eaton Centre via two TTC subway stations; Dundas (on the north side, by Yonge-Dundas Square) & Queen (on the south).
Eaton Centre Local Tip
The Eaton Centre is known to get decked out around the holidays, including a large and gorgeous Christmas tree, for which locals themselves trek out to visit. Make sure not to skip this if you are visiting during the holiday season!
How much time should I spend in the Eaton Centre?
However much you would like! Depending on your preferences, 1-2+ hours.
Is the Eaton Centre worth visiting?
Yes, it is one of the biggest malls in Canada and definitely a sight to see!
Getting to Eaton Centre via TTC
Dundas or Queen subway station are located right next to the mall.
Parking at Eaton Centre
Two parking lots: 1. Yonge & Shuter Parkade or 2. Bay & Dundas Parkade, both averaging ~$25.00 CAD – $30.00 CAD for 2+ hours of parking.
Eaton Centre Entry
FREE! There is no cost to visit Toronto's Eaton Centre.
Nathan Phillips Square is home to the Toronto sign, surrounded by Toronto City Hall. In the warmer months, walk around the water display. In the winter, it is transformed into an ice rink.
Skating at Nathan Phillips Square is completely free during the winter. However, only being in Toronto for two days, you have probably left your skates at home, so you are able to rent some for $10.00 – $15.00 CAD.
If visiting Toronto, Nathan Phillips Square is definitely worth walking through. 
How much time should I spend at Nathan Phillips Square?
~30 mins, you don't need that much time here. 
Is Nathan Phillips Square worth visiting?
From a locals perspective, yes, for the Toronto sign and if you want to skate!
Getting to Nathan Phillips Square
Nathan Phillips Square is a 3 minute walk from Queen TTC Station.
Parking at Nathan Phillips Square
See above for Eaton Centre parking lots.
Nathan Phillips Square Tickets
FREE! There is no cost to visit Nathan Phillips Square.
Yonge-Dundas Square is known as Toronto's version of New York City's Times Square. The square connects two of the busiest streets in downtown Toronto (Yonge & Dundas), and is right next to the Eaton Centre, and many popular restaurants & shops. 
Spend some time walking through the square and admiring the digital art and billboards. Yonge-Dundas Square is known to host free events, concerts and more on any given date. Make sure not to skip this square on your 2 days in Toronto. 
How much time should I spend at Yonge-Dundas Square?
~30 mins
Is Yonge-Dundas Square worth visiting?
Yes, at least one time in your life!
Getting to Yonge-Dundas Square via TTC
Dundas TTC Station (2 mins away).
Parking at Yonge-Dundas Square
Green P parking garage right at the square (20 Dundas Square).
Tickets to Yonge-Dundas Square
FREE! There is no cost to visit Yonge-Dundas Square.
Kensington Market is one of the most unique neighbourhoods and tourist experiences in Toronto. This area is full of life, music and culture. It is known to have a colourful and eclectic atmosphere. 
Take a walk down the streets of Kensington and grab a bite to eat at any of the local shops or restaurants. A Toronto favourite is Golden Patty, for a cheap and classic Jamaican patty. If you're not hungry, grab a coffee at Jimmy's Coffee.
Chinatown and Kensington Market are typically grouped together as a tourist attraction. Chinatown lines the streets around Kensington and goes onto Spadina and Dundas Street West. 
There are plentiful food choices and shops in this neighbourhood; from dim sum to sushi, you are sure to satisfy your cravings. 
Kensington Market and Chinatown Local Tip
If visiting Toronto on a summer Sunday, you MUST visit Kensington Market. Kensington Market hosts a "Pedestrian Sundays" event on the last Sunday of the month, starting at 1:00 PM (from May – October). 
The roads are shut down to cars, music is bumpin' and the streets are filled with craft vendors, food & more! Don't miss out on this great Toronto experience. 
How much time should I spend at Kensington Market/Chinatown:
~2 hours 
Is Kensington Market/Chinatown worth the visit?
Yes! One of the coolest Toronto neighbourhoods.
Getting to Kensington/Chinatown via TTC
25 minute walk from Bathurst TTC station OR take the 511 Streetcar south from Bathurst Station until Bathurst & Dundas Street.
Parking at Kensington/Chinatown
Parking in/around Kensington Market is plentiful. Street parking is readily available or parking lots on St. Andrew St. or Baldwin St. (to name a few).
Tickets to Kensington Market & Chinatown
These neighbourhoods are FREE! There is no cost to visit Kensington Market or Chinatown.
However,  if you are interested in learning more about Kensington and Chinatown, this is a great place to go on a guided walking tour! Check out this highly rated walking tour to immerse yourself in the food and history of this neighbourhood.
Casa Loma is an iconic Toronto landmark, north of downtown. This castle was built in the early 1900's as a house to a very wealthy Canadian, Sir Henry Pellatt. It has since stood the test of time and has become one of the city's most visited tourist attractions.
Casa Loma is now a museum with nearly 100 rooms and multiple exhibits for you to explore. This monument hosts a number of public and private events year round, including; weddings, high tea, Symphony in the Gardens (in summer months), Halloween haunted houses and Christmas displays, to name a few.
Casa Loma has also been used as movie and TV sets, filming The Vow, Goosebumps, X-Men, Scott Pilgrim vs. the World, The Pacifier and so much more!
Casa Loma is definitely worth the visit while in Toronto. It is a little removed, compared to the other major tourist attractions (north Toronto), therefore, give yourself ample time in order to fit it into your Toronto trip. I placed this at the end of your two day Toronto itinerary in case you do not have much time. If you have extra time and/or days fit Casa Loma in!
How much time should I spend at Casa Loma?
~2 hours
Is Casa Loma worth visiting?
Yes & no, (no for the distance from the rest of these tourists stops on this itinerary).
Getting to Casa Loma via TTC
Dupont Station (10 minute walk).
Parking at Casa Loma
Paid parking lot on site for a flat rate of $15.00 CAD.
Tickets to Casa Loma
General Admission: $29 – $45 range, under 3 years old is free. Click here for Casa Loma tickets.
CityPass: Included with CityPass! Purchase your CityPass here.
Extra Days in Toronto  
Have a few extra days in Toronto and want some more fun? Want some more options to create your own personal Toronto itinerary? Then check out these alternative activities below!
The Hockey Hall of Fame is a museum on most people's lists. If you are a hockey fan this is a MUST visit when in Toronto. Come here for the history of hockey, exhibits on world famous players, coaches and teams and important hockey facts.
It is one of the best sports museums in the world and is definitely worth the visit if it spikes your interest. Check their website for more information.
I personally have no interest in hockey, however, many of my family members do and have been to this museum MULTIPLE TIMES.. (why? It's that good apparently).

Toronto's AGO is one of the greatest art museums in all of Canada. There are over 100,000 pieces of art located in this museum from artists all over Canada and the world. 
The gallery hosts famous exhibits from LEGENDARY artists, including works from; Pablo Picasso, the Group of Seven, Yayoi Kusama and many more. 
If visiting an art museum isn't your thing, make sure to at least walk by the building, as the architecture itself is a piece of art! 
Fun fact; if you are 25 years of age or YOUNGER, you can enter the AGO for FREE!
For general admission to AGO, check out these tickets here!
If you are doing a Toronto museum tour and want to visit the ROM & the AGO, click here for this combo ticket which saves you a few dollars!
Graffiti Alley Tours
While visiting downtown Toronto, especially around Queen Street West and Kensington Market, make some time to seek out the amazing graffiti and murals that lines the street. You can do a self guided tour or find yourself a walking tour that will visit Graffiti Alley. 
Toronto Islands
Just across from downtown Toronto are a group of small islands, known as the Toronto Islands. If you've had enough of the city and want to escape but don't have much time, this is the place for you. 
Biking, kayaking, beaches and more await you across the Toronto shore! There is an amusement park and petting zoo that are great for the younger crowds. 
My favourite thing to do on the Islands is to rent tandem bicycles and take gorgeous pictures of the Toronto skyline. Click here for a 3.5 hour bike tour which includes bike rental, your ferry ticket over, a local guide and snacks & water! 
If you don't want to spend your day there, opt instead for this 1 hour boat cruise where you can admire the skyline from Lake Ontario. Click here for boat cruise tickets.
Go to a Toronto Sports Game
Toronto Raptors, Toronto Maple Leafs, Toronto Blue Jays or Toronto FC
There is no shortage of sports in Toronto and I am only listing the four most popular teams. 
As far as tourist attractions go, the highest ranking sports game would probably be a Toronto Blue Jays game (our baseball team). The Rogers Centre is right next to the CN Tower and on a nice summer evening the dome opens up to a view of the famous tower itself. Tickets are fairly cheap and you can find $1 hot dogs. 
If you want something that represents Toronto rap culture, (and my personal favourite), would be a Toronto Raptors Game (NBA). Look for cheap last minute tickets as these tickets are getting quite pricey in general. 
The biggest and most disappointed fans in the universe belong to the Toronto Maple Leafs (NHL), so you could go and cheer for them… Keep in mind, these are some of the most expensive tickets for a sports team. 
Toronto FC is our soccer team and a fun environment to be a part of. If you are going for a day game, choose the west side of the field as the sun BEATS down on the east. 
Whichever sport you choose, you are sure to have a BLAST! If watching a game is a MUST on your itinerary, make sure the team is playing in Toronto during your visit!
Ticketmaster will have all of your sports ticket needs covered, visit them here!
Head out to an Ontario National Park
Feel adventurous and want some gorgeous nature? Drive a few hours north of Toronto for some of the most gorgeous parks. Algonquin Park, Bruce Peninsula National Park, Sandbanks Provincial Park are some of the few popular spots for hiking, canoeing, kayaking, camping, swimming and so much more! 
If you do not have a car to take you, there are tour options available!
Just outside of Toronto, in Vaughn, Ontario is Canada's Wonderland. Truly one of my favourite places growing up. 
This amusement park has some of the best rides; from thrill rides to water slides, you are sure to have an entire day of fun here. 
If you are in Toronto for more than a couple of days and want some exhilarating memories, MAKE SURE to visit! Carve out at least 6-8 hours for this park as waiting in line can add up quickly.
Food can be quite expensive to purchase here, but make sure to try a funnel cake at least once in your life!!
Where to Eat for your Toronto 2 Day Itinerary
Being the most diverse city in the world, it is to no surprise that Toronto's food choices are plentiful! Whatever you are craving, you are sure to find it. 
Some of my favourite choices are below; 
Breakfast and Brunch in Toronto
Mildred's Temple Kitchen in Liberty Village is one of the hottest brunch spots in Toronto. If visiting on a weekend, expect to wait a long time. I strongly recommend visiting during the week when reservations are accepted. Weekends are walk-ins only. The restaurant is closed on Tuesdays.
One of the best things on their menu to try is their famous blueberry buttermilk pancakes! (Pictured below, between our huevos rancheros).
Location: 85 Hanna Ave, Toronto, ON
Closest tourist attraction: 40 minute walk from Kensington Market, or in the opposite direction, 40 minute walk from the CN Tower. Worth the trek out.
Another one of my absolute FAVOURITE breakfast spots in Toronto. The Good Fork is a Middle Eastern brunch restaurant. You cannot go wrong with anything on their menu. I know this fact, however, I still always order the Spanish Hash with chorizo and eggs (pictured below). It is the greatest thing I have put into my body.
The restaurant is west of the tourist attractions in this Toronto 2 day itinerary, but trust me it is worth the trek out. This restaurant only takes weekday reservations, weekends are walk-ins only.
Location: 1550 Dundas St. W, Toronto, ON
Closest tourist attraction: Kensington Market, 30 minute walk.
Lunch & Dinner in Toronto
Craving some jerk chicken? Look no further! This Toronto hot spot is known for its Jamaican cuisine and tropical cocktails. You won't even feel like you're in Toronto while here, the restaurant cultivates the perfect island vibes.
The food is filling and plentiful. I recommend trying something from each part of the menu. My favourites are the curry goat & fish fritters (pictured below).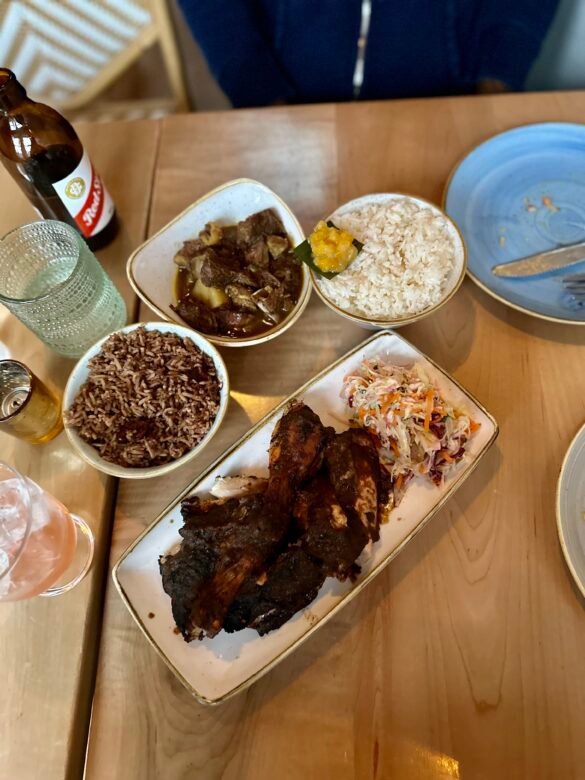 Location: 104 Portland St., Toronto, ON
Closest tourist attraction: 15 minute walk from Kensington Market, 20 minute walk from CN Tower
One of Toronto's BEST restaurants with over 10,000 near perfect reviews. Make some room for this delicious Thai spot during your one day in Toronto. 
PAI is known by Toronto locals as the place to go for Thai food, loved for it's comfy atmosphere and expansive menu. 
Location: 18 Duncan St., Toronto, ON (They also have an uptown location).
Closest tourist attraction: 10 minute walk to the CN Tower & Ripley's Aquarium
Pizzeria Libretto is a well-loved pizza restaurant with many locations scattered throughout the city.  It is enjoyed by locals and tourists alike, as it is close to office buildings and many tourist attractions.
I strongly recommend the 'Nduja sausage pizza, I get it every single time. 
Location: Multiple throughout Toronto
Be transported to Paris when dining at Le Select. You truly feel as though you are in a France; the music, the cuisine, the atmosphere. The food is to DIE for, made with rich and fine ingredients. The menu prices are a bit higher than average, but it is well worth it.
Another bonus is that this restaurant is open for lunch and dinner, which is not typical for a lot of downtown Toronto restaurants.
Location: 432 Wellington St. W, Toronto, ON
Closest tourist attraction: 13 minute walk to the CN Tower and Aquarium 
Have you ever been to an all you can eat restaurant? Ok, but with steak? Copacabana Brazilian Steakhouse is AMAZING. 
You are in for a real treat if you choose to dine here, but please show up hungry! This restaurant is not for vegetarians. If you are pescatarian, you may be able to enjoy, as they offer shrimp skewers and have a salad bar, however, this alone will not justify the price. 
Each person receives a disc that indicates if you are full or ready for more meat! Servers will come around and offer different types of steak, chicken, shrimp & much much more. While dining, you will get to feast your eyes on dance performances and acrobatics. 
For dessert, they come around with grilled pineapple, I highly recommend giving this a try, it is delicious.
Local Tip: DO NOT fill up on the side dish / salad buffet. It is very easy to stock up on this and be too full for the main dish… the meat!
Location: 230 Adelaide St. W.
Closest tourist attraction: CN Tower, 10 minute walk
Wherever you go, I am sure you will have a wonderful meal. There is no shortage of good food in Toronto. 
Toronto 2 Day Itinerary Final Thoughts
Toronto is a vibrant, bustling city with something for everyone. There is no shortage of culture, history and once in a lifetime experiences. I love to call this place home. I bet you'll also fall in love with Toronto and hey, maybe one day you'll love it enough to call it home too! 
Make sure you check out the above mentioned tourist destinations to fill your Toronto 2 day itinerary. Toronto will have you coming back time and time again, so get started on planning your trip to this fantastic city!
If you want more North American city based itineraries, check out my one day in Calgary blog!
Joanna Neander is the author and creator of Plan Before Land. She is dedicated to creating detailed travel itineraries from around the world. Joanna's most visited continents include, North America, Central America & Europe. Asia coming soon! Join along on Joanna's travels!