Welcome to the gorgeous Canadian winter wonderland of Niagara-on-the-Lake. Nestled on the shores of Lake Ontario, Niagara on the Lake in winter is unlike any other! This charming North American town is known for its fabulous summer escapes, lush vineyards and Lake Ontario strolls, however, it transforms into a magical travel destination when the snow falls and is very worth the wintery visit!
I am a born and raised Toronto girl, and have visited Niagara on the Lake or NOTL (you may see me use this short form in here), more times than I can count. This town is a regular weekend spot for girls trips, romantic getaways, bachelorette parties, weddings, the LIST GOES ON.
Niagara-on-the-Lake in winter holds a special place in my heart, as the time and place my husband and I got engaged. The magic in the air at this time of year is unmatched, I recommend everyone visit Niagara on the Lake in winter at least once in their lives to experience it! 
Niagara-on-the-Lake embraces the winter season with open arms, offering cozy experiences by the fireplace, charming wine tastings indoor & outdoor, historic experiences, snowshoeing and skating for the family and so much more. The frost kissed streets of this Ontario town make for the perfect winter weekend escape.
Join me as I list the BEST activities and things to do in Niagara on the Lake in winter.
Some links in this Niagara-on-the-Lake winter post are affiliate. If clicked, I may receive a small commission at no extra cost to you! 🙂
How to get to Niagara-on-the-Lake?
The Niagara region is split up between Canada and the USA (Ontario & New York). The two closest cities being Buffalo & Toronto. Below are ways that you can get to Niagara on the Lake via Toronto or Buffalo. 
Please keep in mind that Niagara-on-the-Lake is located in Ontario, Canada. 
Travelling from Toronto to Niagara on the Lake
Getting to Niagara on the Lake is a straightforward and enjoyable journey. If you're travelling from Toronto, the most common route is by car, which takes approximately 1.5-2 hours, depending on traffic and weather conditions. 
The QEW (Queen Elizabeth Way), is the main highway that leads directly to Niagara on the Lake. For those visiting from afar, the easiest option would be to rent a car, so as to get from place to place while at your destination. 
There are train and bus routes available that you can check out on BusBud, however, this is not recommended, as once you are there, wineries and activities will be difficult to access without your own car.
Travelling from Buffalo to Niagara on the Lake
If travelling from the nearby city Buffalo, I also recommend driving (renting a car if need be). Don't forget you WILL need your passport as Buffalo is in the USA and Niagara-on-the-Lake is within Canada's borders.
You will need to cross the border at Rainbow Bridge, once crossing take Highway 420 East to the QEW, exit at Highway 55, which will lead you to your destination, Niagara-on-the-Lake!
Fun fact: You can walk across Rainbow Bridge for $1.00.
If you are not from these nearby cities or towns and need to rent a car, check out Rental Cars for deals and discounts for your winter weekend in Niagara.
Private Transfer from Toronto
If you don't have the option of renting a car or going on your own, a private transfer is a fabulous way to get to the Niagara region. There are MANY tour groups that run from Toronto to Niagara-on-the-Lake.
For reference, an Uber can cost upwards of $500.00 CAD from Toronto to NOTL. Whereas private transfers come in at under $150.00 per person!
Check out this tour option for pick up in downtown Toronto to Niagara Region.
Where to stay in Niagara on the Lake in winter
Luxury Accommodations in Niagara-on-the-Lake
Looking for a luxury accommodation for your Niagara on the Lake winter escape? These hotels are some of the absolute BEST. Whether seeking a spa resort or cozy escape, these Niagara-on-the-Lake hotels will be sure to give you an indulgent stay. 
The Prince of Wales Hotel is a historical landmark with Victorian charm. When I think of Niagara-on-the-Lake this building is the first that I picture. It's central location make it the perfect spot to rest your head after a day of exploring in the Niagara cold. 
Located just minutes walk from The Shaw Festival Theatre and a few kilometres away from popular vineyards.
Stay for the plush accommodations, fabulous amenities including a spa, indoor pool and whirlpool, award-winning restaurant and afternoon tea.
Enjoy free parking on site!
Click here for Prince of Wales Hotel deals prices and booking information!
I was fortunate to stay at this hotel on a girls weekend a while back, this was one of the most gorgeous hotels I have ever visited. 
Elegant rooms, a delicious restaurant and waterfront views (or icy lake views). This luxurious hotel has an indoor pool and spa to take advantage of during your wintery escape.
Some rooms come equipped with a fireplace and spa bath. Free parking is available to all.
Click here for prices and booking information for Queens Landing.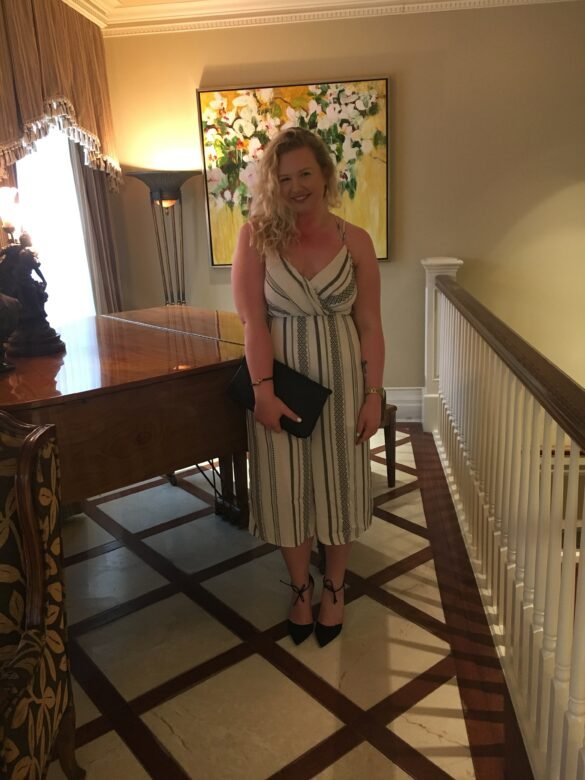 Charming ambiance, cozy rooms, renowned spa, located in the HEART of Niagara on the Lake, it does not get much better. This luxurious hotel offers exceptional spa services, relaxation lounges and a number of pools to choose from.
Head out for a day of wine tasting and then back to your luxury hotel for a dip in the pool!
Extra perks:
Free shuttle to and from locations in Old Town
Pool side patio
FREE parking!
Great for golfers: 5 minutes drive away from Niagara Golf Club!
Click here for deals & discounts for Pillar and Post Inn & Spa.
Mid-Range Accommodations in Niagara-on-the-Lake
Riverbend Inn & Vineyard has the most special place in my heart, it is where my husband and I got engaged. This hotel can be classified as luxurious with the prices of mid-range.
Riverbend Inn embodies Niagara-on-the-Lake; the cozy rooms with fireplaces, the private vineyards for a lovely afternoon stroll and the central location with historic ambiance and charm.
We stayed here in the winter and loved every moment of our stay. 
Click here for prices and booking for Riverbend Inn & Vineyard.
Luxurious amenities at mid-range prices. Enjoy the spa, fitness centre, indoor pool and many dining options at White Oaks Conference & Resort Spa.
Special amenities: Free parking & hair salon on site!
Click here for booking and prices of White Oaks Conference Resort & Spa.
A cozy and quaint inn with complimentary parking and a stellar location close to all that NOTL has to offer!
Click here for Moffat Inn booking information.
Budget Accommodations in Niagara-on-the-Lake
Budget hotels in the Niagara on the Lake region can be a little hard to come by, expanding your radius around NOTL can help tremendously in finding something to suit your budget.
This is the hotel we tend to stay at when visiting NOTL. It is affordable, although a little outside of the main hub. Staybridge Suites is a great place to stay if you have access to a vehicle.
Free breakfast, free parking, and a fitness centre are all waiting for you!
Click here for deals and booking at Staybridge Suites NOTL.
Niagara on the Lake Vacation Rentals
I highly recommend checking out vacation rentals in the area. They are usually cheaper and a great alternative if you have a vehicle to get to and from the main attractions.
We have stayed at some great places over the years!
Niagara on the Lake in Winter: The BEST activities for your winter weekend!
Mark your calendars for the annual Niagara Icewine Festival. A winter wonderland extravaganza from January 12th 2024 – 28th 2024 (on weekends). 
Icewine is known as the nectar of the cold, made from grapes that are harvested ONLY at the peak of winter (-8°C temperatures or below), making icewine a delicacy. Known as liquid gold, icewine has an incredible blend of sweetness and acidity.
If you are seeking the BEST of Niagara-on-the-Lake in winter, look no further. These three weekends blend the magic of icewine and the best of the Niagara culinary scene. 
The Niagara Icewine Festival commences with an elegant gala, setting the stage for the rest of the weekends. Spend time exploring different wineries for pairings of wine and food. 
In the autumn months they host a Niagara Grape & Wine Festival, once this is complete they sell Icewine festival discovery passes on their website. Discovery passes will include different tiers, ie. a weekend pass, a Friday pass, etc.
For tickets and more information head to the Niagara Wine Festival website here.
Skating in Niagara on the Lake
Lace up your skates and get ready to glide into the heart of Niagara-on-the-Lake. Wine and history are not ALL that the Niagara region has to offer. Cold weather activities are at the forefront of Niagara on the Lake's winter spirit. 
Forgot your skates at home? Not to worry, skate rentals are available for rent at a small cost (~$5.00-$10.00 CAD average), at most skating rinks in Niagara on the Lake, make sure to check ahead of time so as not to be disappointed. 
Skating at The Gardens at Pillar and Post
The Ice Rink in The Gardens at Pillar and Post are sure to make you fall in love with skating. Enjoy some delicious treats and hot beverages while you skate away.
The rink is free to use, however, there is a fee for skate rentals. Make sure you check their schedule for hours and blocked out dates.
Wayne Gretzky Estate Winery Skating
Venture to Wayne Gretzky Estate Winery where their pond becomes a skating rink from December to March annually. If skating isn't your thing, you can watch your loved ones skate from the heated Whisky Bar patio!
Wayne Gretzky Estate Winery requires in advance booking and an admission fee.
A DJ night is hosted on Saturday evenings from 6-10 PM and there is a community skate day which is free on the second Wednesday of each month! 
Click here for Wayne Gretzky Estate's booking & fees.
Outlet Collection at Niagara
Outlet Collection at Niagara is an annual free holiday skate!
Book your 45-minute time slot in advance.
Spa Day in Niagara on the Lake
Name a better way to cozy up than at a spa? I'll write this while you think.
There are a few amazing spas to visit in Niagara on the Lake, below are some you have to check out!
Indulge in a world of relaxation and rejuvenation at 100 Fountain Spa. This 13,000 square foot spa is a true retreat. The menu of spa services is expansive, offering holistic treatments, massage therapy, body wraps and scrubs and a number of beauty services to choose from.
The spa has luxurious amenities, including a cozy fireplace lounge to warm up after swimming in the heated saltwater pool, hot tub or hot spring pool. For those looking for more exertion, head to the state-of-the-art fitness centre.
It is advised to book ahead at least two weeks in advance for a service. Day passes are available on weekdays (holidays not included).
Check out their website for booking & treatment information at 100 Fountain Spa.
A 12,000 square foot oasis awaits at The Spa at Q. The spa has a unique service menu that includes a hydrotherapy wellness circuit featuring a snow room (how Canadian of them), alongside hot and cold pools. Make sure you bring a bathing suit!!
Rejuvenate in the sauna or steam room before enjoying a relaxing massage or facial. The spa menu has much to choose from. 
The Spa at Q is by appointment only, try and book ahead of time to ensure your spot. Click here for booking & more information on The Spa at Q.
Another gorgeous Niagara on the Lake spa for you to enjoy. The Secret Garden Spa fills up fast, make sure to book at least three weeks ahead of arrival for this spa.
Day passes are currently not available at this spa, ensure you book your treatment for ease of access.
A large number of holistic treatments, wellness therapies and more are available at this tranquil escape.
Visit their website here for the menu of services and booking.
Snowshoeing in Niagara-on-the-Lake
Embark on a one of a kind Canadian adventure at Thirty Bench Wine Makers! In January 2024 this unique experience will have you snowshoeing through the fluffy snow of Riesling vineyards. 
This snowshoeing and wine tour will include a guided hike, adult sized snowshoe rentals, Thirty Bench wine samples and a warm cup of vegan soup. 
The tickets cost $75.00 per adult, $65.00 if you hold a wine club membership. This is of great value if you ask me! 
It is recommended to book this snowshoeing tour in advance to ensure your spot. Click here for tickets and more information.
Wine Tasting in Niagara on the Lake
** The legal drinking age in Canada is 19 years old **
My favourite activity… wine!!
Don't let the winter season fool you – Niagara's wine culture thrives YEAR-ROUND. Imagine cradling a glass of fantastic wine beside a fire pit, snuggled up under the blanket with your loved one (am I selling it or what)?
In my opinion, there is nothing better (if you're not a wine-o like me, don't worry Niagara region still has much to offer, if you've been reading this post you know). 
I pride myself in having been to almost all of the Niagara on the Lake wineries, so I have some favourites lined up.
All of the wineries have great wine for tasting, listed below are some of the wineries that I think have cool & UNIQUE experiences to top off the delicious wine.
Caroline Cellars is my absolute number 1. Their wine? Delicious. Caroline Cellars farmhouse cafe? AMAZING farm to table food. The farmhouse feel is so homey and unique. I love it there so much, I make sure to stop there each and every time I go to NOTL.
Their wine tastings are typically the cheapest I have found in the region and the fee is waved (majority of the time), upon buying a bottle of wine.
It is not as fancy or popular as the other Niagara wineries but this just adds to their sweet country charm.
Konzelmann Estate Winery is another favourite winery of mine. Whenever I have guests from out of town visiting I am sure to take them here. They offer different and unique activities year round that keep things interesting.
Konzelmann's Peachwine is how they stand out from the rest. It is not my personal favourite but EVERYONE I know raves about it, so make sure you give it a try!
If you are interested in a wine tasting here, they cost $10.00 for three wine samples of your choice! (Including Peachwine, yum).
Click here for Konzelmann tasting tickets.
Konzelmann Wine Tasting in a Dome
Konzelmann offers a very cool, luxury, private wine tasting experience in a DOME. The dome is see-through and covered, great for a colder or rainy day. Enjoy glasses of wine while overlooking the vineyards, Lake Ontario, and on a clear day, the Toronto skyline.
The tasting costs $60.00 CAD per adult, lasts 1 hour in length, includes wine, charcuterie and bread.
Click here for the private luxury dome wine tasting experience at Konzelmann.
One of the most popular wineries in Niagara is Pellar Estates.
Pellar Estates has a winery tour like most, but what makes this one special is their 10Below Icewine Lounge, an igloo lounge, where you can taste Niagara's famous icewine.
They offer you winter jackets to keep you toasty in the frigid temperatures, however, if it is already winter time, I am sure you have your coats ready to go!
Book your Pellar Estates tasting & tours on their website here.
Wayne Gretzky… a Canadian Idol. This winery is truly Canadian, as mentioned above, their pond turns into an ice rink in the winter months (December – March), for you to enjoy a skate along with your wine!
Their tours have a unique aspect as Wayne Gretzky Estates Winery also has a Whisky distillery!! I am not a huge whisky fan, but their Salted Caramel Cream whisky is phenomenal.
I can keep going with this winery list but there is never enough time in a day to fit them all.
Winter wine tasting experiences are amazing, indoor and outdoor you are sure to feel cozy & comfortable. The holiday season also brings forth the most gorgeous decorations for stunning photo backdrops.
Niagara Brewery Tours
Wine not your thing? Don't worry, Niagara Region has a great craft beer scene.
If this is more up your alley, check out one of these tours.
Half Day Niagara Micro Brewery Tour
Enjoy beer and history on the Half Day Niagara Micro Brewery Tour; includes hotel pick up in Niagara region, entry and tasting at The Exchange Brewery, Blackburn Brewery, Niagara Falls, Taps Brew House and Niagara College Teaching Brewery.
Click here for tour information & tickets!
Brewery & Distillery Tour (Craft Beer, Spirits, and Cocktails)
If you are looking for the best of both worlds (craft beer and cocktails), this Brewery & Distillery tour will have you in heaven!
Pick up is available in Niagara Falls and Niagara on the Lake. This tour lasts approximately 4-5 hours in length with tastings included at each location listed; Wayne Gretzky Estates, Niagara Oast House Brewers, Limited Distilling and The Exchange Brewery.
Winter Hiking in Niagara on the Lake
Wanting to walk off some of the wine? Niagara on the Lake waterfront trail is a 6.0 kilometre loop that will have you experiencing the true beauty of the region.
This easy trail is available year-round, perfect for a leisurely stroll or however intense you want to be! The path is paved with minimal elevation, making this a smooth journey along the water.
Bring your furry companion along (with a leash), and enjoy some snowy views. Ensure you come weather prepared and watch out for ice!
I recommend downloading the free App, Alltrails for all of your hiking needs (the app can be used offline and they show pictures and information from trails all over the world, I use it every time I am planning a hike).
Afternoon Tea
Escape from the wintery cold and treat yourself to a quintessential afternoon tea in Niagara on the Lake. 
Indulge in elegance with High Tea at the Prince of Wales Hotel, The Drawing Room. Enjoy a traditional English tea in the Vicotiran ambiance of this charming hotel. The hotel's rich history will add to the charm of your scones and clotted cream. 
Reserve your spot in advance to ensure you won't miss out.
The hours are from 11:00 AM – 5:00 PM daily. 
McFarland House is a very unique place to have your Afternoon Tea. What was once a historical military hospital during the war of 1812, has transformed into a historic museum with a gorgeous glass enclosed tea room.
Traditional tea is offered with sandwiches, scones, pastries and desserts, accompanied by your choice of tea. 
They are open from Thursday – Sunday 12:00 PM – 4:30 PM, reservations are recommended. 
Consider taking a tour of the house before or after enjoying your afternoon tea! 
Venture from Niagara-on-the-Lake over to Niagara Falls, for the amazing Niagara Parks Butterfly Conservatory. You will feel like you're in the tropics.
If you are searching for some extra warmth during your stay in Niagara on the Lake in winter months, Niagara's Butterfly Conservatory has you covered!! 
My husband and I have been to more butterfly conservatories than concerts together (which is weird, I know), but that makes me an expert on butterfly conservatories, and this one, is fabulous!
A lush tropical environment, with 2,000+ butterflies, Niagara's Butterfly Conservatory makes for a perfect escape from the winter cold. 
They offer regular admission tickets which you can purchase in advance here! Or you can purchase guided tour tickets on their website here.
Niagara Falls: Winter Festival of Lights
Stay over in Niagara Falls for an enchanting fireworks and lights display. Niagara Falls Winter Festival of Lights is Canada's largest lights festival. This FREE experience deserves to be on your bucket list. 
This year the festival will be from Saturday, November 11, 2023 – Monday, February 19, 2024, culminating on Family Day weekend. The lights spectacle unfolds from 5:00 PM – midnight every day, including holidays! 
The Winter Festival of Lights spans over 8 kilometres, trails of lights wind along the Niagara Parkway, where the Niagara Falls light up. This is an outdoor festival and you must dress appropriately for the weather!!
The festival hosts firework displays on select dates as well, if this is something you are dying to see, make sure to check their schedule in advance. 
Whether you're strolling through the festival with a loved one or creating cherished memories with your family, the Niagara Falls Winter Festival of Lights promises an unforgettable and FREE (hello, amazing), experience for all. 
Your winter wonderland in Niagara-on-the-Lake 
The winter season in Niagara on the Lake will leave your heart warm and cozy. From indulgent moments of relaxation at luxurious spas, to skating across frozen ponds, every corner of this picturesque town will have you embracing the cold.
Wine tasting on frost kissed vineyards, winter hiking or snowshoeing to keep you active and afternoon tea to quench your thirst. Niagara on the Lake in winter is a special time of year.
As the world transforms into a winter wonderland, Niagara-on-the-Lake invites you to embark on a journey that captivates and rejuvenates, creating memories that stay for life.
And who knows, maybe you'll get engaged here like we did. 😉