Last updated on May 18th, 2023 at 10:01 pm
Monteverde, Costa Rica lives up to its name with an abundance of lush green mountains that surround you. This Monteverde itinerary will include; mesmerizing cloud forests, vibrant greenery, and diverse vegetation, creating a truly spectacular setting for your vacation.
Having personally experienced the wonders of Monteverde during a delightful spring visit, I am thrilled to assist you by crafting this 2-day Monteverde itinerary for your upcoming adventure!
A visit to this remarkable region is an absolute must when exploring Costa Rica.
Some links in this post are affiliate, if you click them I may get a small commission at no extra cost to you.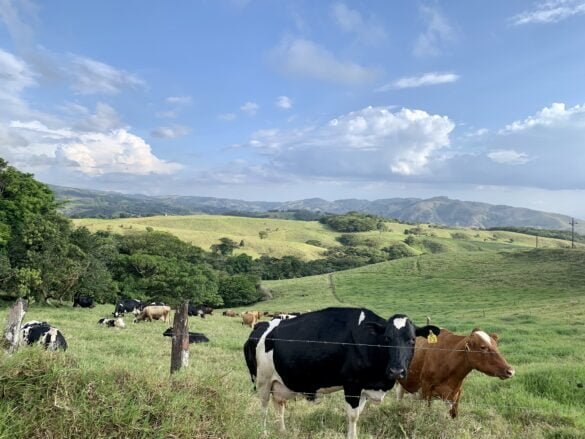 How many days to spend in Monteverde, Costa Rica
Recommended length of stay in Monteverde: 2-3 days
Our stay in Monteverde: 2 days 
Monteverde, Costa Rica Weather
The weather in Monteverde, Costa Rica can be a little chillier and more wet than the beach side towns, therefore, make sure that you dress & pack appropriately when visiting.
The temperatures range from low/mid 10°C – high 30°C (50-86°F).
How to get to Monteverde
Monteverde Driving Routes
SJO Airport -> Monteverde: 2.5-3 hours via Route 27 & 606
LIR Airport -> Monteverde: 2.5 hours via Route 1, 142 & 145
La Fortuna -> Monteverde: 2.5 hours via Route 142 & 145 (similar to above)
Tamarindo -> Monteverde: 3.5 hours via Route 21, 18 & 145
We took the La Fortuna -> Monteverde route. It was beautiful. The views are amazing, and, while driving, the regions change, resulting in a change of the scenery. From lakes and rainforests to green pastures and mountains, you will have views aplenty.
The routes are paved, however, as you enter Monteverde the roads are not as smooth. Depending on your final destination, a 4×4 may be necessary. We stayed at a farm Airbnb deeper into the mountains and a 4×4 was required.
At another point in our trip, we took routes 21 and 18, (when leaving Tamarindo), these are also well maintained and paved.
Need a car? Head to Rental Cars.
Public Bus: Transmonteverde
There is a bus that goes from San Jose to Monteverde. The bus runs daily, two times per day, at 6:30 AM and 2:30 PM. The booking can be found on, their website here.
The cost is around $6.00 USD.
Monteverde Accommodations
We stayed in a finca (farm). It is a fun way to be immersed into Costa Rican culture and I highly recommend this type of experience (you will definitely need a 4×4 for this).
Click here for Monteverde Vrbo rentals.
Click here for Monteverde Airbnbs.
If that's not for you, below are some hotels in Monteverde and Santa Elena.
Luxury Hotels:
1. Koora Hotel: Avg Cost $300.00 – $600.00 CAD per night
2. Monteverde Lodge & Gardens: Avg Cost $350.00 CAD per night
3. Hotel Belmar: Avg Cost $300.00 – $350.00 CAD per night
Mid-range Hotels:
1. Tityra Lodge: Avg Cost $70.00 – $100.00 CAD per night – for an entire bungalow!!
2. La Guayaba Monteverde: Avg Cost $60.00 – $100.00 CAD per night
Budget Hotels:
1. Hakuna Matata Guest House: Avg Cost $30.00 – $40.00 CAD per night
2. Camino Verde B&B Monteverde: Avg Cost $50.00 – $100.00 CAD per night
Monteverde Itinerary: 2 Days in Monteverde
Check out my Costa Rica Travel Guide, as well as my 10 Day Costa Rica Itinerary, for more information and further help with planning your adventure!
Day 1: Santa Elena & Coffee/Chocolate Tour
Morning: Drive to Santa Elena, Monteverde Region (Puntarenas province)
See the driving routes above.
Lunch time/ Early afternoon: Santa Elena
Once you get to Santa Elena, park your car and walk around this sweet town.
Obviously, I am starting the Monteverde itinerary with food… Grab a bite to eat at Tico Y Rico for traditional Costa Rican cuisine or grab an iced coffee at Panaderia Jimenez.
There are so many cute stores & souvenir shops. We spent a good chunk of time just wandering around.
This is one of my favourite ways to get to know a town.
Go ahead and get lost!! People are friendly, you will find your way back to your car.
Afternoon: Chocolate, Coffee & Sugar Cane Tour
Spend your afternoon indulging in Costa Rica's natural elements.
A) Join a local 3-in-1 tour that visits a chocolate farm, coffee and sugar plantation. This tour offers pick up & drop off to your stay in Monteverde or Santa Elena.
Check out the tours and prices here!
B) A larger tour company that runs in Arenal & Monteverde is Don Juan Tours. They offer chocolate, coffee & sugar cane tours.
The chocolate, coffee & sugar cane tour is 2 hours in length with a few time options.
Additionally, they offer a night walk option with coffee & chocolate which starts at 5:30 PM.
You can also do a 4-in-1 tour; this includes coffee, chocolate, sugar cane & a night walk.
Check out their tours & prices here!
Evening: Head to your Airbnb/Hotel
If you have the chance, (and a 4×4 vehicle), I recommend staying at a finca (farm), to get a full Costa Rican experience.
Our Airbnb had sheep, cows & horses. We got to spend time feeding the sheep with bananas from their trees and hanging out with the horses while they bathed the cows. It was amazing!!
Our Airbnb/farm was well maintained with many fruits & vegetables that they graciously shared with us (even coffee plants)!
It was truly an unforgettable Costa Rican experience. I strongly encourage you all to stay at a finca! Below are a few photos from our stay.
TIP: Make sure you head to your Airbnb/Hotel before dark.
If you are staying deeper into the mountains it is important to drive with the daylight so as not to get lost/stuck in a ditch.
Good night!
Day 2: Ziplining & Monteverde Cloud Forest
Morning: Breakfast & Ziplining at Sky Adventures Park
Head to breakfast at Choco Café Restaurant & Coffee Shop, I am sure you are not sick of chocolate and coffee yet (haha).
After a fabulous breakfast, head for your first adventure of the day… Ziplining!
This Monteverde itinerary would be incomplete without ziplining.
You can visit any park and pay for tickets there, OR you can purchase a tour package that includes pick up and drop off here.
Do NOT leave this activity out when planning your trip to Costa Rica and/or the Monteverde region.
It is AMAZING!! I recommend Sky Adventures Park. They were professional, safe & most of all fun to hang with for the day!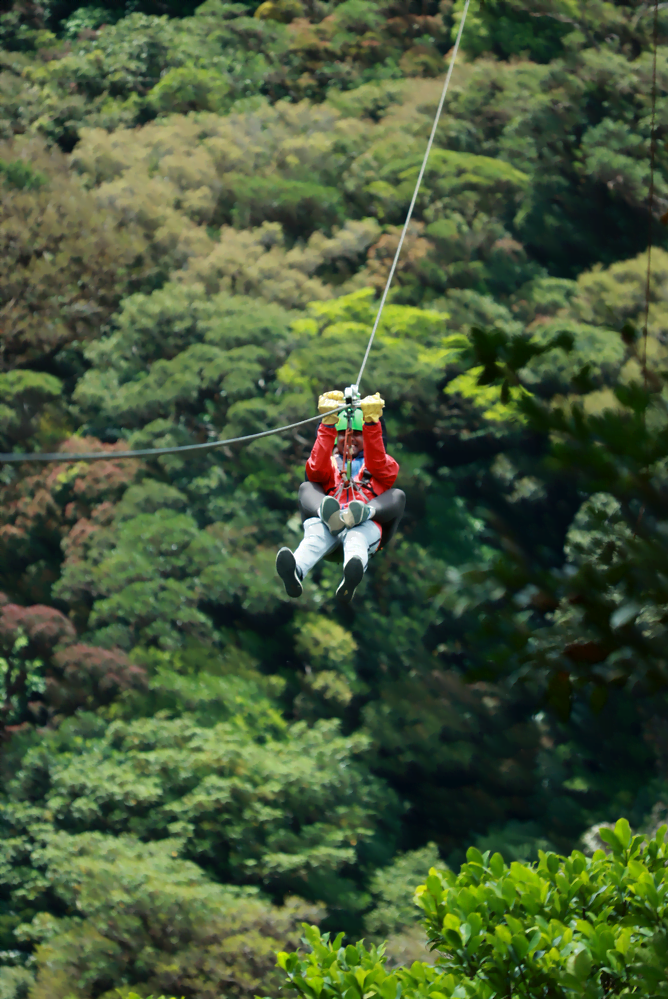 Look, how beautiful!!
Lunch: Have a delicious pizza lunch at Bon Appetit!
Afternoon: Monteverde Cloud Forest & Biological Preserve or Santa Elena Cloud Forest Reserve
One thing you MUST do on your two days in Monteverde is visit a cloud forest. This region of Costa Rica is KNOWN for them.
You can visit one of the below mentioned parks or opt for the hanging bridges walk at the Sky Adventures Park (this can be purchased as part of a package with your zipline tour).
Prices are updated October 2022 and are USD.
Head to their website here, to book a tour!
If you do choose to go to Monteverde Cloud Forest, please be advised that you must pay for parking at the parking lot below and they shuttle you up to the cloud forest.
If you have not seen hanging bridges yet and are dying to at this park, ensure that it is open to visitors. When we were about to head over, we were told that the hanging bridge was closed for maintenance.
Santa Elena Cloud Forest Reserve offers free parking.
They recommend that you book in advance for special tours. If you would just like to purchase the entrance pass you can show up day of.
Head to their website here for booking.
Interested in taking a night walking tour of the cloud forest to see nocturnal creatures?
Look no further, this tour includes pick up & drop off from your hotel, a tour guide and entry tickets into Monteverde Cloud Forest at night.
The tour lasts about 2.5 hours and includes flashlights, for ~$38.00 CAD per person.
Check out tours & prices here!
Want to visit both cloud forests in one day? This tour is the FULL package. It includes; pick up and drop off at your hotel, entry into Santa Elena Cloud Forest, Monteverde Cloud Forest, AND Curi Cancha Reserve.
It includes your own private guide and binoculars for your viewing pleasure.
In my opinion, this tour is the best value, as it includes your transport as well. The tour can be booked here for ~$230.00 CAD.
However, keep in mind, this tour will be focusing mostly on birds. If this is not for you, try visiting the reserves on their own and finding other guides!
Evening: Dinner & bed
Restaurants in Monteverde, Costa Rica
Head to dinner or order takeout from a restaurant in town. If you haven't tried the above mentioned restaurants, I recommend giving them a try.
They are: Tico y Rico, Bon Appetit and Choco Café Restaurante & Coffee Shop.
Some other restaurants on my list:
Restaurante Sabor Tico
Tree House Restaurante
The Green Restaurant
Good night!
Pin it for later!
Monteverde presents a captivating destination for nature enthusiasts and adventure seekers alike. With its awe-inspiring cloud forests, abundant greenery, and remarkable biodiversity, this region leaves an indelible mark on every visitor.
This detailed Monteverde itinerary offers a taste of the wonderful experiences awaiting you in Monteverde. From thrilling zipline adventures through the canopy to peaceful walks along suspension bridges.
Pack your bags, follow this itinerary, and embark on a Costa Rican adventure that will leave you with memories to last a lifetime!