Last updated on February 25th, 2023 at 12:51 pm
So, you have decided to visit Calgary and are asking yourself, does Calgary have a good food scene? I am here to tell you, that YES, they really do. Look no further, I got you covered on the absolute BEST places to eat in Calgary.
I love food & travel, therefore, travel food. You can find me spending literal hours reading up on places to eat, sometimes just to end up walking into a crappy restaurant. For that reason, I have been trying to stick to my lists going forward as I end up thanking them later. Therefore, leading me to create this fine list for all of you.
In this blog post you will find, breakfast restaurants & cafes, which I think are some of my best recommendations in Calgary.
Further down, you will find my lunch & dinner recommendations. This was my best work. I personally loved (not just *liked*), each of these Calgary restaurants.
Last, but not least, you will see some Calgary bars & pubs!
Now… let's get to the eating!
Breakfast Restaurants & Coffee Shops in Downtown Calgary
Breakfast is easily my favourite part of the day. I don't skip it at home and I sure as hell don't skip it while travelling.
For the below mentioned recommendations; some I Googled, some I stumbled upon and one was recommended to me!
This list, (in my opinion), has the most delicious restaurants & the best cafés in Calgary for breakfast:
So many locations in Calgary to choose from. This coffee shop is also located in other parts of Alberta & British Columbia, Canada.
We had delicious breakfast sandwiches (the sausage breakfast wrap & the bacon and egg on brioche) with lattes.
There are 4 locations in Calgary.
The photos showcase my breakfast (Nut Mylk Hummus & Pickled Veggie toast). They make the hummus and pickle the veg on site! The next photo is my cappuccino.
I also found the cappuccino to be so smooth. It did just the trick (the trick in waking me up).
I loved the vibe at Monogram Coffee!
I was staying across the street at the Best Western in 2020 and ran into this coffee shop, was pleasantly surprised
Great place for a quick bite and caffeinated beverages
They also host shows and serve alcohol at night!
4. Alforno Bakery & Café ($$): 222 7 St. SW
This was my favourite coffee shop in downtown Calgary. You can sit down and have a larger breakfast or grab something to go
They have SO MANY pastries, I was so angry with myself for being full…
The pumpkin spice latte I had was amazing. (Do not come for me, I am not that basic…. I like regular lattes too but sometimes I want a treat).
I highly recommend this aesthetically pleasing café that serves breakfast, lunch & dinner
4 locations in Calgary!
This restaurant is also expanding to more of Canada & America
Classic breakfast restaurant, delicious & affordable
Lunch & Dinner Restaurants in Calgary
Below are my lunch & dinner options in Calgary! Calgary has a number of restaurants on the Best 100 in Canada list. I haven't been able to try all of them, although, that is the goal one day!
At the start of this list are restaurants open for lunch and dinner. As you approach the end, these restaurants are only open for dinner.
Let's get started:
One of the best restaurants I have eaten at. HONESTLY, so delicious.
This restaurant is on Canada's 100 Best List (rightfully, so!!)
Open from 11:00AM – 11:00 PM daily (they have answered our prayers, thank you)
Serves a weekend brunch menu
This restaurant is known for it's shared dishes, with a predominantly vegetarian focus. That being said, they still serve meat & fish!
I recommend making reservations online. They were very busy. I was able to get a seat at the bar as I was alone, otherwise people were waiting for about an hour to sit down!
If dining alone, they offer a smaller portion size compared to the original share-ables.
I ate the cauliflower dish & the scallops. If I was with my friends or fiancé I would have been happy to order the whole menu, (until next time, I guess)
Additionally, I ordered dessert for take out; it was their cheesecake creampuffs, AMAZING. If you don't like cheesecake.. I do not know what to say.. They also had a coconut cake that looked delicious.
This resto/bar is so fun! It has a 1960's retro theme, the walls, the art, the carpets & booths.
Great location on Stephen Ave Walk, close to all of the major downtown hotels (Hyatt & Marriott).
I had just gotten off of a flight and went here starving.. the food was fabulous!
My friend and I shared the caesar salad (definitely share-able)!
I ordered the porchetta sandwich and she ordered the chicken burger, both with truffle fries. Currently drooling as I write about this, I miss it.. Do you ever just miss food? Anyway..
I would definitely go back just for cocktails if you don't have time for the full meal! This place is worth a visit.
They have 4 locations!
The one on 10th has a bowling alley!
This is a great spot for beer lovers & pub food. I recommend the crispy fried chicken sandwich.
Seafood, steak & pastas!
This restaurant has a great wine list, I enjoyed a couple of the reds.
This restaurant used to be a hotel and the look of it is super cool.
My biggest takeaway from this restaurant was their dessert; the sticky toffee pudding (omg, I am drooling again).
5. Shokunin ($$-$$$): 2016 4 St. SW.
*Only open for dinner*
This Japanese restaurant was probably one of the greatest culinary experiences of my life.
If you watched The Final Table on Netflix, Chef Darren MacLean owns this restaurant, and you literally get to watch him in the kitchen while you eat your food.
The restaurant, the vibes, the cocktails, the food, are all a 10/10!!!!!! It is not a shock that this restaurant is also on Canada's Best 100 List.
If you are ever wondering where to eat dinner in Calgary, this place is it.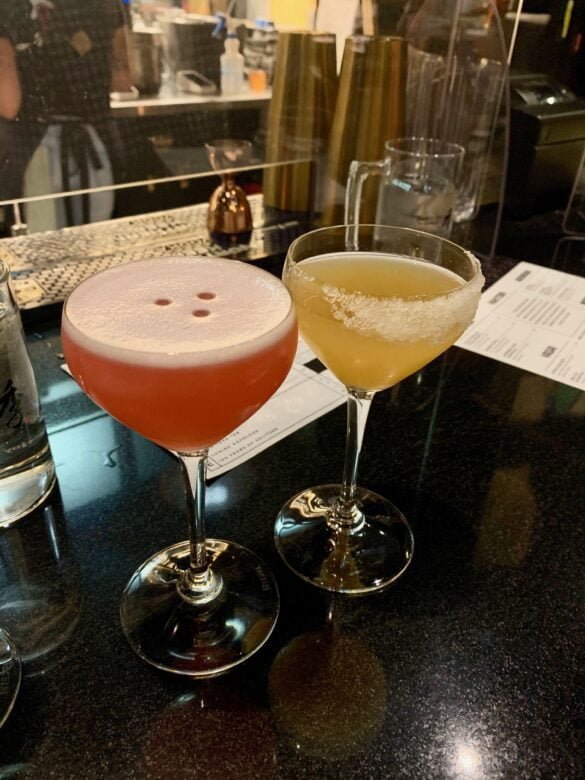 We were about 15 minutes early for our reservation and our table was not ready.
They sat us at the bar and served us complimentary sparkling wine as a "sorry", I don't know what they were sorry about, but, amazing. The cocktails had the perfect amount of alcohol.
The food… I have no words, out of this world.
What to order (our faves):
Yakitori: chicken ass, oyster (these sell out the quickest)
Niku: braised beef gyoza
Agemono: buttermilk chicken karaage
*I did not see the chicken skins on the recent menu, but if they have it please order, they are something I have never had before but loved every bite!!
You cannot go wrong with the whole menu, be adventurous!
6. Con Mi Taco ($$): 821 1 St. SW.
*Only open for dinner*
I had these tacos for takeout one night, super delicious!
Some were very spicy, watch out, haha!
The menu offers taco take-out kits, pretty cool if you want a date night at home!
I recommend the Korean Fish & the Birria tacos
Calgary Bars & Pubs
Let's dive into the bars.. get it, dive bars (ok, I'll stop).
The below are just a few bars, I didn't go to many! Keep in mind, many of the restaurants above also serve great drinks & vibes!
This is a small bar on Stephen Ave. Walk known for it's wine & Japanese whiskey
They have an Italian restaurant next door (Annabelle's Kitchen)
I am not a whiskey drinker, but I loved their unique gin and their negroni!
Visited this bar on a Friday night and it was bumpin'!!
Seriously, anything on the bustling 17th Avenue is bound to be fun.
Super busy, cheap drinks, good pub food (when you need it).
Sweet potato fries & nachos were YUMMY
Hosts live music/events
This bar is on Canada's 50 Best Bar List
Classic basement pub with cheap food/drinks

Bar games available (pool, darts, etc.)
Well, that's my list friends! I hope you have the chance to enjoy some of these delicious Calgary restaurants.
Let me know if you have any other recommendations for me. There are so many places in Calgary that I am looking forward to trying next time I am there.
Be sure to check out my One Day in Calgary blog post