Last updated on June 8th, 2023 at 09:53 pm
Arenal, Costa Rica, holds a special place in my heart as it stands out as my favourite destination within the country. If only I had more time, I would have eagerly spent months exploring this captivating region. Nevertheless, I managed to maximize my visit and am here to share this 3 days in Arenal, Costa Rica itinerary with all of you!
La Fortuna is a true paradise on earth that deserves to be experienced firsthand. From the majestic volcano to the rejuvenating hot springs, the enchanting waterfall, the charming town, and the warm hearted locals, every aspect of La Fortuna is astounding. 
I wrote this La Fortuna & Arenal itinerary to reflect our remarkable trip. We were immensely satisfied with our time spent there, and it is my sincere hope that you will find this itinerary helpful in planning your own adventure!
Some links in this post are affiliate, if you click them I may get a small commission at no extra cost to you.
How many days to spend in La Fortuna / Arenal, Costa Rica
Recommended length of stay: 3-4 days
Our stay: 3.5 days
Arenal, Costa Rica Accommodations
La Fortuna and the region of Arenal have many gorgeous resorts and hotels. This is mostly attributed to their abundance of hot springs. When we went to La Fortuna, we stayed at a Treehouse Airbnb close to town.
I prefer to stay in Airbnb or Vrbo rentals, as it helps me feel more at home.
Click here for La Fortuna Vrbo Rentals.
La Fortuna Luxury hotels
The luxury hotels listed here are outside / to the west of the city centre of La Fortuna.
Tabacon is world renowned for its exceptional hot springs and luxurious accommodations. Elegant suites, villas with private gardens, volcano view rooms, you are in for a treat.
Spa and wellness are of utmost importance at Tabacón Thermal Resort & Spa; offering volcanic mud wraps, massages and facials to name a few. 
The hot springs are icing on the cake. Sit back in paradise with a refreshing drink in hand as you enjoy the many pools or thermal river. 
I was able to spend some time at The Tabacón Hot Springs, I detail this in my blog, Tabacón Thermal Resort & Spa Review: Arenal, Costa Rica. My family stayed at this resort, (without me, how rude?), and they still have not shut up about how amazing it was. It is pure luxury.
Click here for information on prices & booking at Tabacón Thermal Resort & Spa!
The Springs Resort & Spa at Arenal offer some of the best views in town; located on a hillside with panoramic views overlooking the Arenal Volcano and the surrounding rainforests.
Similar to Tabacón,  you have access to mineral-rich hot springs, world-class spa services and many adventure activities to choose from. 
The Springs Resort & Spa has been known to host many famous people; including The Kardiashians.
Click here for booking & pricing information on The Springs Resort & Spa at Arenal!
Mid-Range Hotels in La Fortuna
Hotel Los Lagos Spa & Resort is in a great location, very close to Arenal Volcano. This hotel is another that offers hot spring services; with many thermal pools and natural hot springs to choose from. 
Hotel Los Lagos Spa & Resort is best for families, as there are a range of activities offered for all ages; including designated children's pools and play areas. 
For those that want a tranquil spa and hot spring experience for a lower budget, Los Lagos Spa & Resort is for you!
Check out prices & booking information for Hotel Los Lagos Spa & Resort here.
If you are looking for a more uniquely Costa Rican experience, opt for Arenal Oasis Eco Lodge & Wildlife Refuge.
With eco-friendly practices; this lodge uses renewable energy sources, and implements water and waste management systems that minimize the impact on the environment. Hello, save the earth people!!
If you are a wildlife lover, this place is also for you!! The refuge is across 200 acres of tropical rainforest and home to a number of flora, fauna, birds, monkeys, sloths, the list goes on!
Arenal Oasis offers guided nature tours to help you learn more about Costa Rica's biodiversity. You will feel as though you are touring the country while staying at your accommodation.
Click here for Arenal Oasis Eco Lodge & Wildlife Refuge pricing and booking information.
La Fortuna Budget Hotels / Hostels
For budget-friendly accommodations, stay at Arenal Backpackers Resort. There are various room types available, including dormitories and private rooms.
Arenal Backpackers Resort offers a communal bar/lounge area, kitchen, pool & so much more. This environment is sure to help you meet friends and like minded individuals ready to explore.
Additionally, this hostel offers spectacular views of Arenal Volcano and is centrally located, making this an easy spot to visit all that La Fortuna & Arenal have to offer.
Click here for Arenal Backpackers Resort pricing & booking!
Selina hostels are amazing. They are stylish, well-designed and attract a fun crowd. The social environment and communal spaces at Selina hostels provides opportunities to make friends easily and have travel buddies ready to go!
The Selina La Fortuna provides a range of different room types; private suites, treehouses, dormitories and more! Selina offers a number of activities and programs that are offered daily; from yoga to social events, you will never be bored!
This hostel is centrally located and a fabulous choice for those travelling on a smaller budget or for those ready to meet some new friends!
3 Days in Arenal, Costa Rica Itinerary
Day 1: La Fortuna Town & Mistico Hanging Bridges
Morning: La Fortuna Town
Spend your morning getting acquainted in La Fortuna, you will be spending 3 days in La Fortuna. Check out some of their shops and make sure to stop into a fruit/veggie stand to get a smoothie. Our favourite was Frutas Y Verduras Hnos Lazo.
If you're lucky and it's not cloudy you will have an unobstructed view of Arenal Volcano. It is such a beautiful backdrop to this town.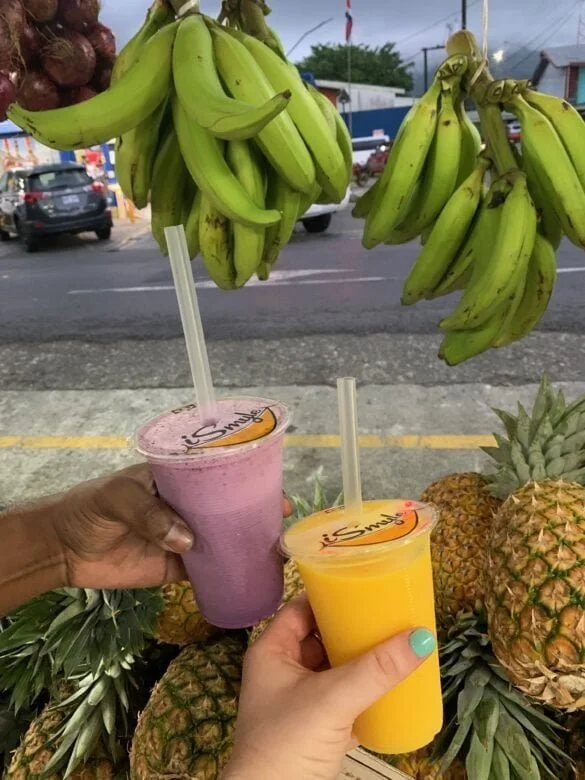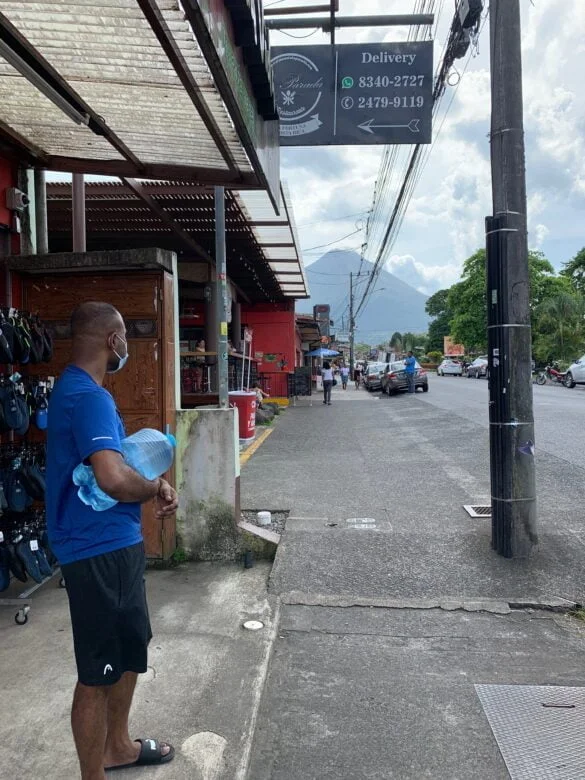 Afternoon: Mistico Arenal Hanging Bridges
It's time to get in your car and drive 30 minutes west of town to the Mistico Hanging Bridges. This was one of our favourite experiences in Arenal. If you read anything from this blog post, make sure it's my below note…
---
***Important***
You need to book your ticket at least ONE day in advance. We completely forgot this fact, showed up to the entrance and were turned away. We parked our car on the side and debated what to do. While we were pulled over, the staff at the entrance let us know that it was not full at the park and we were able to purchase a same day ticket.
Do not take this risk like we did and buy ahead online here.
You also must wear closed toe shoes at this park.
---
This park offers a few different tours and entry tickets. We chose to purchase the entrance fee for the Hanging Bridges walk. The park is open from 6:30 AM – 4:30 PM, with final entrance to the park at 3:50 PM.
Once you arrive you will be awarded with this stunning view of Arenal Volcano. This magnificent park has a total of 16 bridges, 6 hanging and 10 fixed bridges. The walk takes a couple of hours, is 3.2km in length, and you can go at any pace you'd like.
Mistico Ticket Options
Tickets for general entrance fee (USD):
Adult: $28
Teen (11-18 yo): $18
Senior (65 yo+): $23
Child (10 and under): FREE
Prices updated June 2023.
Some recommend that you purchase a guided tour to be able to see more wildlife. That is up to your discretion. The guided tours cost a bit more, upwards of $40.00 USD per adult. I personally was OK with just doing the walk on our own. We saw an abundance of wildlife.
Check out their website here for more tours and tickets.
They provide a bird watching tour, a twilight walk, a night walk and combo tickets.
Mistico Tour Groups
There is a tour that runs from La Fortuna to Mistico Hanging Bridges and includes; transportation, entrance fee into the park and a private guide. I recommend this option if you want a well taken care of day! Book this tour in advance, it runs rain or shine!
Evening: Out for dinner in town
Head to dinner at Restaurante La Parada. You will not be disappointed!
Good night!
Day 2: La Fortuna Waterfall & Arenal Volcano National Park
Morning: La Fortuna Waterfall
This La Fortuna 3 day itinerary would be INCOMPLETE without visiting the famed La Fortuna Waterfall.
Drive over to La Fortuna Waterfall as early as you can! The drive from town is about 10 minutes. La Fortuna Waterfall opens at 7:00 AM and the earlier you get there the better, as the crowds start to come at around 9:00 AM (with tour buses).
However, if doing this day (Waterfall, Volcano & Hanging Bridges) in a tour is preferable, check out this tour that includes entrance to all three attractions, transportation, lunch, tour guides & more.
La Fortuna Waterfall
Tickets can be purchased on site right before you walk down or ahead of time here on their website. These tickets will give you access to the waterfall and their orchid garden.
General Admission Tickets (USD):
Adult (9yo+): $18.00
Child (less than 8yo): FREE
We arrived at about 7:30 AM and it was literally perfect. At this early hour, we were some of the only few people under the waterfall for about an hour. La Fortuna waterfall was my favourite part of Costa Rica, HANDS DOWN. Don't forget your bathing suits!!
Once you arrive, you must walk down the 500 steps to the base of the waterfall. The stairs are well kept and we had no issues. I wore sandals and Arujan wore running shoes.
When you're down at the bottom you will not want to leave. We spent a few hours here, exploring, swimming under the falls and relaxing. It was perfect.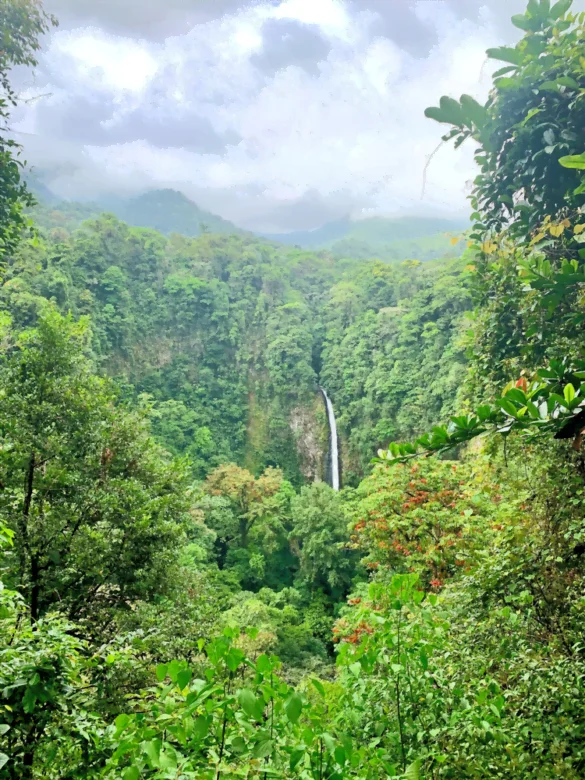 Don't forget, you have to walk up 500+ steps to get back home. It is not as hard as it seems, however, some people will have some difficulty, if so, there are benches along the way to rest your legs if you need! It is not accessible for those with mobility difficulties.
La Fortuna waterfall is known to be one of the BEST things to do in La Fortuna!
Lunch:
Get a bite to eat at Gecko's Waterfall Grill, it is on the way back to town. 
Afternoon: Arenal Volcano National Park
After an early lunch, head over to Arenal Volcano National Park. From town, this is about a 30 minute drive. Once you arrive, you will be greeted at the entrance. You can purchase tickets there.
General entrance tickets (USD):
Adult: $15.00
Child: $5.00
They will then let you download a map of their trails via QR code. I took a picture of their map as well. It seems like a lot, however, we were able to fit in all of these trails in an afternoon. I am here to tell you, it is possible!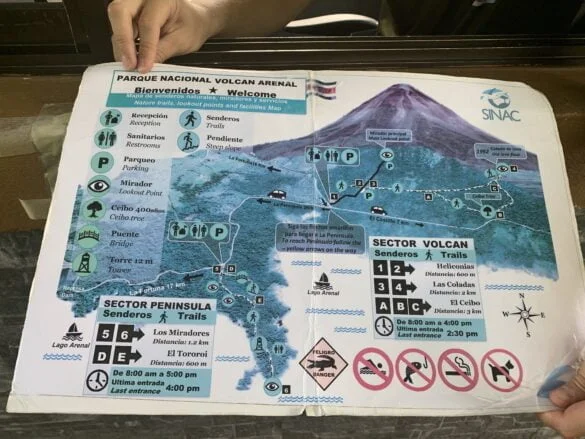 My recommended Arenal Volcano National Park Trail Itinerary
I highly recommend you download the FREE app Alltrails. It is great for downloading specific trails and following them offline. I personally use the free version only and this is all I ever need! 
1. Mirador: Main Lookout Point:
I recommend this first, you can drive all the way up to the viewpoint and take in the volcano.  For your sake, I hope it is not cloudy. We had clouds and were unable to see the crater. Go earlier in the day if this is important to you!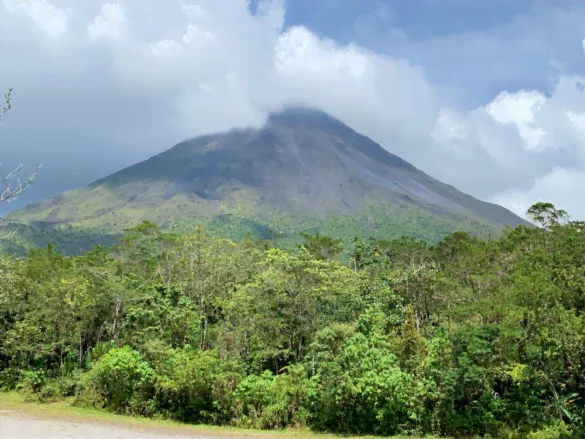 2. Heliconias & Las Coladas Trail & ABC trail (El Ceibo):
You can then complete the rest of the trails in this area all together. I strongly recommend this hike, it is easy with minimal elevation gain. The total is about 5.6km in length and you can complete this in a couple of hours, if going at a slower pace!
Make sure not to skip the El Ceibo trail, it goes slightly off from the path you will be on, but it is well worth the sight. This tree is over 400 years old and it's size is out of this world. My picture of this tree does not do it justice.
3. Sector Peninsula: Los Miradores & El Tororoi (total of 1.8km):
This section is open until 5:00 PM, so we made sure to complete it at the end of our day in Arenal Volcano National Park. You have to drive over to this area and park beside their information building.
Their paths are quite easy and there are a few lookout spots, a tower and toilets along the way to Lake Arenal. Enjoy your last trail at a leisurely pace!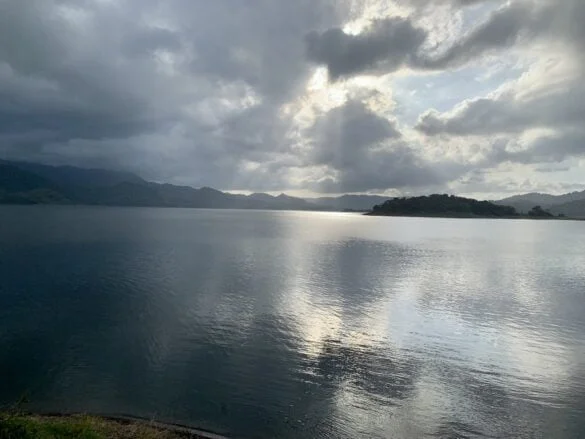 Evening: Dinner
Enjoy dinner at Restaurante Café Mediterráneo. You are probably super hungry after a busy hiking day. This restaurant has fabulous pizza & sangria!
Good night!
Day 3: Relaxation day; Massage & Tabacón Thermal Resort & Spa
Morning: Massage & Breakfast
Start and end this day in relaxation mode. You are in paradise and you worked hard hiking yesterday. It's time to relax!
In town there are a number of vendors offering massages for an affordable price. We found this company Serenity in town and just walked in to see if they had any availability. To our luck they were available!
We had an hour couples massage for $80.00 USD, and it was one of the most relaxing massages I have had. The price point of this massage was amazing and it helped kick start our relaxation day.
Then head for a late breakfast at Red Frog Coffee Roasters. It is SO yummy and the coffee is fab! 
Afternoon: Tabacón Thermal Resort & Spa
Our experience at Tabacón is detailed in full in my spa blog post. I strongly recommend you spend at least a day in one of Arenal's hot springs. It is up to you on which you would like to enjoy. The price point changes between most places and I do a deeper dive into this in the above mentioned post.
Tabacón is a luxury resort and it just so happened when we booked, it was one of the few that had an opening. My recommendation is once you decide which you would like to visit, you book your pass ASAP.
We purchased a day pass with 1 meal included for $90.00 USD per adult.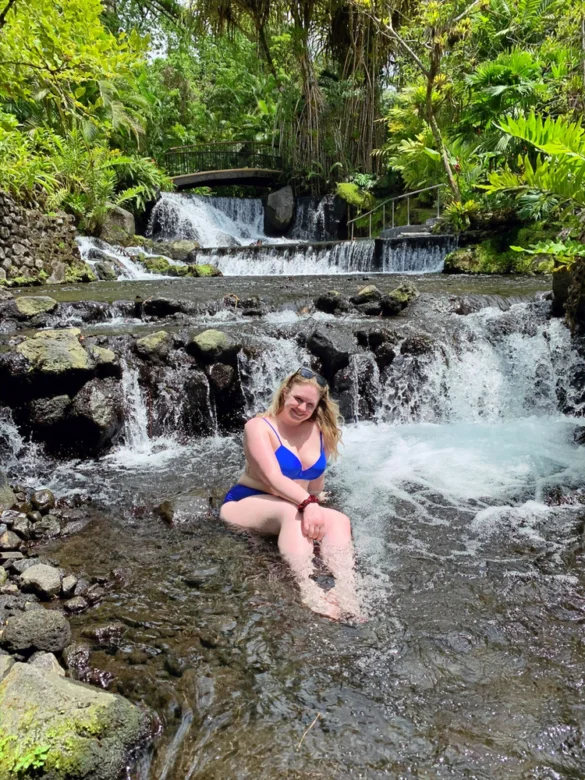 I have nothing but praises for this thermal resort. We had one of the most relaxing days and I hope you will too!
Evening: Dinner at Tabacón or your thermal resort
Purchase dinner with your day pass and you won't have to worry about where to eat! Otherwise head back to town and grab a bite there. Check out this list of restaurants in La Fortuna for some inspiration!
Enjoy.
Extra Time in La Fortuna
If you have extra time in the Arenal region, I recommend doing a sloth walk. They have a few different companies. We used the Bogarin Trail. I did not put this in our jam packed three day itinerary as it was not as important as the above mentioned, however, it is still worth it!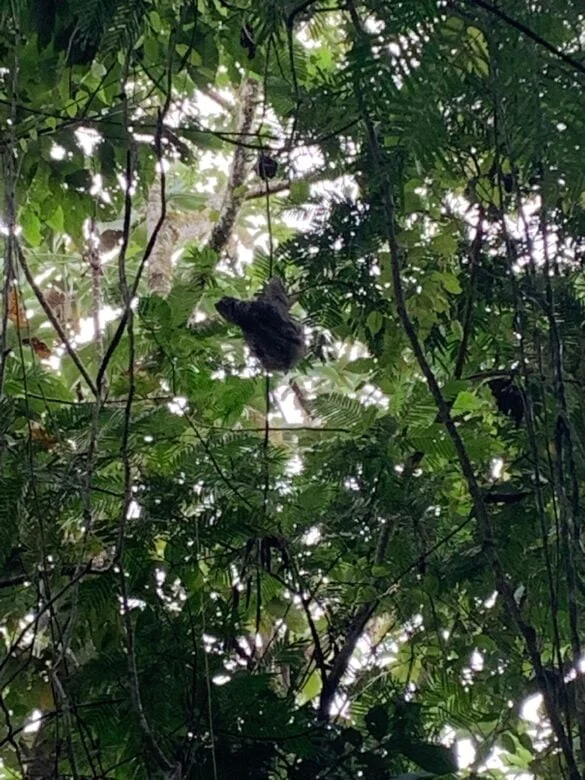 Tickets for general admission are $15.00 USD for entry for adult & children. The park is open from 7:00 AM – 5:00 PM.
We did not take a guided tour, those that did saw more sloths, however, people were very friendly and would show us the sloths that they saw! The guided tours cost about $50.00 – $60.00 USD per adult and $25.00 – $40.00 USD per child.
The sloths come down about once per week to poop! Most sloths we saw were way up high in the trees, photos could not capture them. This one above, was coming down and we were able to get a good view!
On our way out, there was a small sitting area for bird watching. We saw many different kinds of birds and were able to sit and relax after our walk!
If you would prefer to combine these top excursions into one tour, check out this tour that includes entrance fees to each park, a guide, lunch & transportation. This may be a better option for those who would like a structured experience and for those that do not want to worry about transportation to each park.
Busy? Pin it for later!
Final Thoughts on 3 Days in La Fortuna, Costa Rica Itinerary
Spending 3 days in Arenal, Costa Rica offers an unforgettable adventure filled with breathtaking natural wonders, thrilling activities, and moments of relaxation. From the captivating Arenal Volcano to the rejuvenating hot springs and stunning waterfalls, this region truly showcases the beauty of Costa Rica.
Whether you choose to explore the rainforest through hikes, want to relax at the hot springs all day or decide to be a daredevil and do some Costa Rica zip lines, Arenal, Costa Rica has something for everyone.
Immerse yourself in the vibrant culture, indulge in local cuisine, and embrace the warmth of the kind people. Arenal is a destination that will leave you with cherished memories and a deep appreciation for Costa Rica.