Last updated on April 26th, 2023 at 11:41 pm
The blog post you are about to read will make you VERY hungry. I have compiled my favourite restaurants and places to eat in La Fortuna into the best restaurant guide in La Fortuna, Costa Rica! I love food; I love food from different cultures, food that is cheap, expensive food, fattening food, healthy food, french fries, veggies, I love it ALL.
Whenever I go on a trip, I spend DAYS researching the most popular restaurants, food trucks, street food vendors, reading other travel and food blogs to see what's popular and choosing what I think that myself and Arujan will enjoy the most. Thank GOD for choosing a future husband who is not a picky eater… it would not work out.
We spent a lot of our time in La Fortuna eating. This part of our trip was "adventure" heavy which left us very hungry. Be sure to spend some time on my Arenal itinerary as well!
In my La Fortuna, Costa Rica restaurant guide below, are the places we enjoyed the most, in no particular order. Bon Appetit.. or I should say ¡Buen provecho!
La Fortuna: Best Food & Restaurants
Price range: $
Cuisine: Authentic Costa Rican
Soda La Hormiga was my favourite place to eat in La Fortuna, it is literally out of this world. Prices: CHEAP. Food: FANTASTIC. Soda's are all over Costa Rica, they serve typical Costa Rican cuisine and are usually named after their owner. Soda La Hormiga was always busy – a true testament to their successful restaurant.
I ordered the casado (bottom), which is a Costa Rican dish made with beans, rice, plantains, lettuce and meat (beef, for mine). Arujan ordered a Costa Rican taco, which he fell in love with and proceeded to order at every restaurant he could. I would eat at this Soda every day if I could. Do not miss out.
Price range: $
Cuisine: Costa Rican
I cannot say one bad thing about this restaurant either.. also OUTSTANDING. It was very busy (usually a good sign), and was on my list of La Fortuna restaurants to try and we were not disappointed.
The patio looks out onto the main square of La Fortuna and we were lucky to sit right at the edge of the patio, which allowed for some people watching (another of my travel hobbies).
The menu is large and has enough for the whole family, I am sure it can even satisfy the pickiest of eaters, as it is also a pizzeria. Arujan ordered his classic taco and fries. I had their steak, which I can only describe as *chef's kiss*. I promise there is an abundance of options for amazing prices. You will not be sorry you stumbled upon this restaurant for a meal!
Price range: $$
Cuisine: Costa Rican
Okay, listen up, this may be a tourist trap or whatever you want to call it.. (it is on the way to and from La Fortuna waterfall). BUT, do not write this place off completely, we went to La Fortuna waterfall early in the morning (earlier the better), and the swimming made us ready for breakfast afterwards so decided to stop at this grill on the hill.
The picture does not do it justice either but my breakfast wrap was stellar and filling!! Arujan enjoyed his breakfast sandwich as well.
Keep in mind, it is a little pricier than places you will find in town because it is very close to La Fortuna waterfall and they know they can make some $$, however, if you are hungry it is a great little place to check out on your way back from La Fortuna waterfall.
Price range: $
Cuisine: Fruit Market with Smoothie stand (Batidos)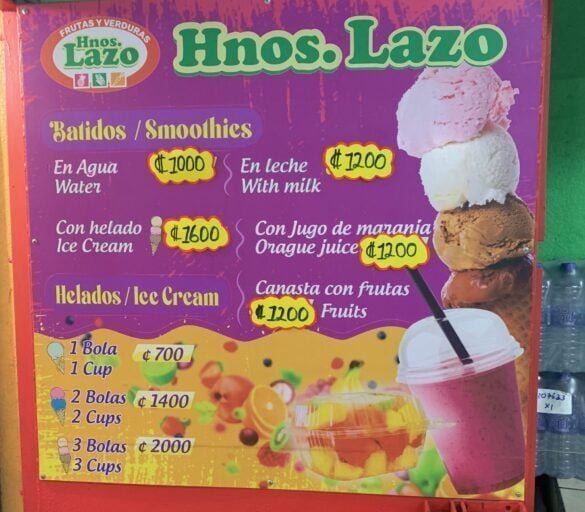 We went to this place MANY times during our time in La Fortuna. The smoothies are so refreshing and cheap!!! You can also purchase fresh fruits here to enjoy. I recommend the pineapple in Costa Rica it is so juicy and I do not know what I am eating in Toronto but it is not IT.
You can order your smoothie with water, milk, orange juice, or ice cream. Prices are not much different per base. I chose the orange juice base when I had a mango smoothie and milk when I had strawberry-banana, both delicious!!
There are many places to purchase batidos in Costa Rica, this place was the most popular from all of my research and I can see why. I will be back 100%.
Price range: $$-$$$
Cuisine: Italian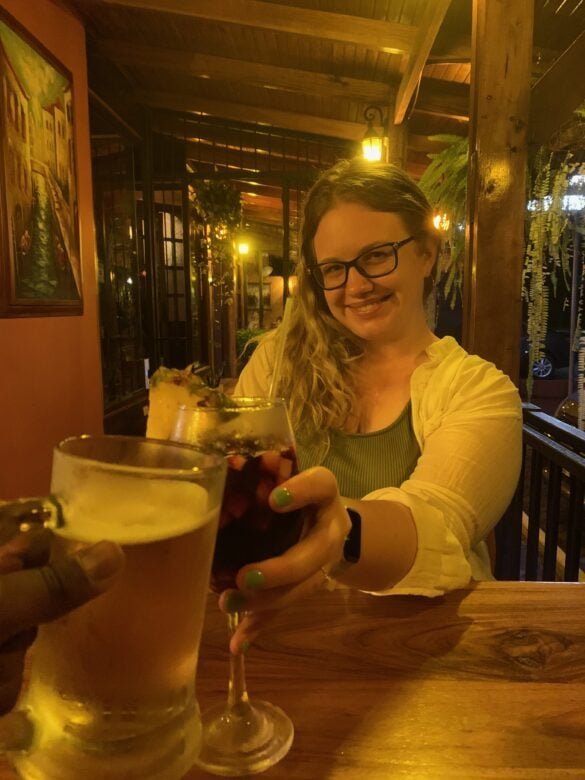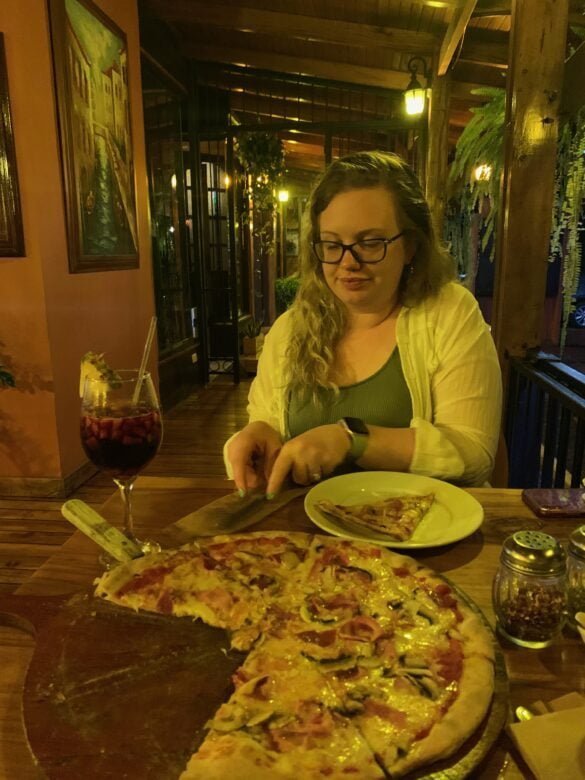 This Italian restaurant in Arenal, Costa Rica is just a few minutes south of the town of La Fortuna on Route 702. It is family friendly and has a play area for young children. It was packed whenever we drove by, however, the night we chose to dine here was empty, which was lovely.
Their pizzas and pastas are homemade and they have something for everyone. If you are wanting a strong drink, I suggest the sangria, if you order this, I think you will be surprised, it was amazing.
The price point was on the higher end for food in Costa Rica, with a large pizza costing around $9000-11000 colones (around $20.00 CAD), but still quite affordable! The large pizza was big enough to feed two hungry adults.
Price range: $
Cuisine: Costa Rican coffee & food
Fun fact: Red Frog is also a hostel!
Another day, another tico taco for Arujan! Red Frog Coffee Roasters roasts Costa Rican beans fresh every day, this coffee is phenomenal. I am an iced coffee lover and this was one of the best I have ever had, not even lying.
I ordered fresh fruit and the breakfast quesadillas. The fruit is out of this world in Costa Rica, so juicy and fresh.
This restaurant/café is located on Route 142 just west of La Fortuna town. This is the road that takes you to the hot springs and Arenal Volcano National Park so it is one of the best restaurants in La Fortuna, to stop for some coffee and breakfast before a long hike or relaxing at the springs. You will need to fuel up either way!
Price: $$$
Cuisine: Costa Rican
We only went to this restaurant because it came with a day pass to Tabacón Hot Springs, which I discuss in many of my Costa Rica blogs. This restaurant would not have been on our radar had we not had a pass to eat here already. We both ordered the exact same starter and main dish.
Four our starter, we both had the seafood ceviche, it was very fresh. Our main was the burger and it was so juicy, I loved it. I was craving a burger and it hit the spot. My siblings were at this restaurant a month after us and also ordered the burgers and they said the same thing, so I am sure the burgers are a good choice.
I did not like the desserts, they were slightly stale, maybe opt out!
If you are at Tabacón, this restaurant is on site and close to the springs, so you can eat and then head back to the water, which in itself is a great reason to eat here.
Coconut Stands
Price range: 1/2 $ (very cheap)
You will see coconut street vendors all over Costa Rica. There are many stands that line Route 142 from La Fortuna to Arenal Volcano National Park. Just pull over and say hello! They are the most friendly people and the coconut is so refreshing.
The coconuts cost around 500 colones (around $1 CAD). I am not a huge fan of coconut water, but hey it quenches the thirst and is aesthetically pleasing with the backdrop, haha.
La Fortuna Cooking Class
Try something new while you are in Costa Rica with a cooking class. One of the best ways to get to know a country is through it's unique cuisine.
Spend some time getting to know locals and learning from THEM how to make some delicious food.
This cooking class package includes; pick up & drop off at your hotel, a cocktail and the dinner you prepare! 
Enjoy & pin it for later!

---
There are so many places to eat in La Fortuna, this is a small number of them and I am sure many of the other places are just as good. 
The fruit is fresh, the coffee is amazing and Costa Rican cuisine is cheap and very filling. Let me know some of your favourite places here, I plan to go back next year!
Joanna Neander is the author and creator of Plan Before Land. She is dedicated to creating detailed travel itineraries from around the world. Joanna's most visited continents include, North America, Central America & Europe. Asia coming soon! Join along on Joanna's travels!