Last updated on September 21st, 2023 at 12:40 am
---
I spent a gorgeous couple of weeks in Costa Rica last spring and loved it so much I am returning this spring! Costa Rica has many different regions, each with something spectacular to offer. Therefore, I created this amazing Costa Rica 10 Days Itinerary to help you start your journey!
Within this Costa Rica 10 day itinerary, I squeeze in 3 different regions; Arenal/La Fortuna, Monteverde & Guanacaste Province. Some may say that 10 days in Costa Rica is too little for three regions, and honestly, they are probably right. However, it is possible, and you can jam pack a ton of beauty into them.
This Costa Rica itinerary highlights the above mentioned areas.
Some links in this post are affiliate. If clicked, I may receive a s mall commission at no extra cost to you. 
How Many Days to Spend in Costa Rica
Unless you spend months in Costa Rica, the chances of you seeing the entire country is slim to none. I strongly recommend about 3+ days per unique area. This gives you enough travel time between regions and plenty of time to explore.
Recommended time to spend in Costa Rica: for a trip; 2 weeks, to see the entire country: months+
Recommended amount of time per unique region: 3-5 days
Costa Rica 10 Days Itinerary
Before you dive into this 10 days in Costa Rica itinerary, make sure to check out my Costa Rica Packing List & Costa Rica Travel Guide. I detail transportation, currency, accommodations, spending money in Costa Rica, and much more!
Now, let's get started on what to see in Costa Rica in 10 days!
Day 0: Arrive in Costa Rica – SJO Airport
I am considering this Day 0 if you arrive in the evening (like we did), if not start at Day 1
If you are arriving to Costa Rica via SJO airport, Alajuela is going to be the closest city to you. Instead of taking the 30 minute drive to San José, Costa Rica (the country's capital), opt to stay in this closer city.
Hit the town and enjoy your evening before a big travel day tomorrow!
We headed to El Patio Food Garden at the recommendation of our hotel and we had such an amazing meal. El Patio Food Garden has a number of different restaurants and bars, check out their menus and see what you would enjoy! We ate at Black Tap, the below dish is called the Chorrillana; french fries, garlic aioli and steak. It was to die for!!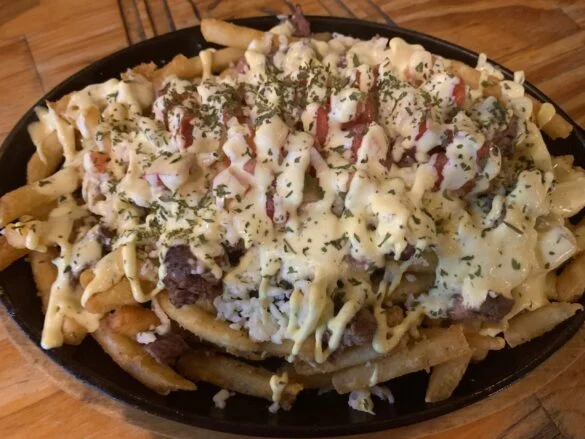 El Patio Food Garden Address: 2Q7Q+CW7, Alajuela Province, Alajuela, Costa Rica
Head home and get to bed for your big day tomorrow.
Day 1: Alajuela Province -> Arenal
Bogarin Trail
Morning:
Wake up, get in your rental car and head to La Fortuna! I strongly suggest renting a car. Driving is the most convenient way to get around Costa Rica.
The drive from Alajuela to La Fortuna is about 2 hours and 35 minutes. Make sure you always drive during the day, Costa Rica's night driving can be dangerous and is poorly lit.
I also recommend you have some type of GPS while driving. We were offered to purchase a GPS with our car rental for $10.00 USD per day. We opted out and instead, used our phone data.
Lunch:
Check out my restaurant guide for La Fortuna. Wherever you go, I am sure you will enjoy an affordable feast!
Afternoon:
Walk around La Fortuna. It is a wonderful town, full of character and the sweetest people! If it is not a cloudy day, you can see Arenal Volcano from town. It is such a picturesque backdrop.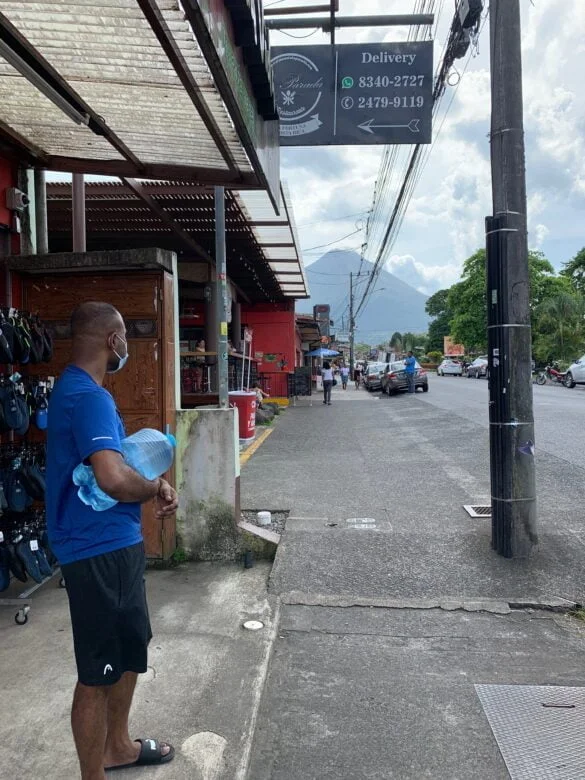 Head over to the Bogarin Trail, just outside of the city centre, to see some sloths! Just an FYI, they only come down from the trees once per week to go to the bathroom. We were lucky to see one from a distance.
Tickets are $15.00 USD for entry. We did not take a guided tour, those that did saw more sloths, however, people were very friendly and would show us the sloths that they saw!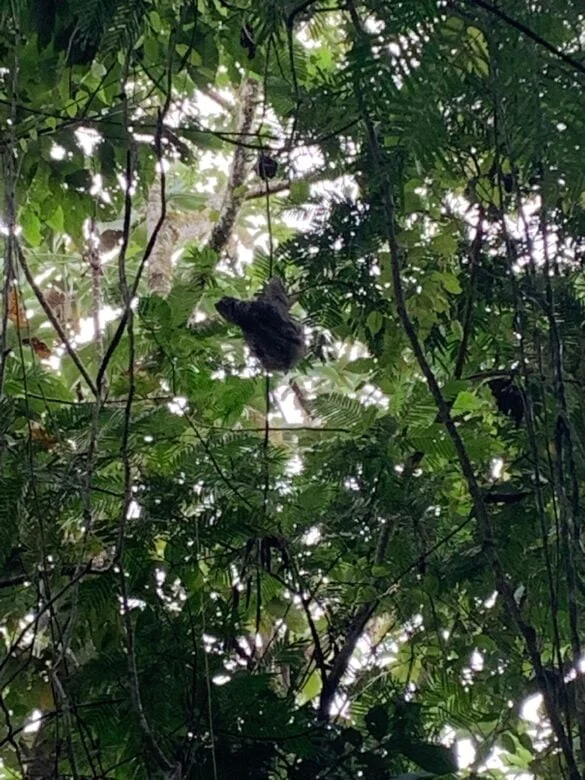 I detail the Bogarin Trail more thoroughly in my La Fortuna/Arenal itinerary.
Evening:
Head out for dinner, pick a restaurant from this blog post, and enjoy the evening!
Day 2: Arenal
La Fortuna Waterfall & Arenal Volcano National Park
Morning: La Fortuna Waterfall
Drive over to La Fortuna Waterfall as early as you can! The drive from town is about 10 minutes. La Fortuna Waterfall opens at 7:00 AM and the earlier you get there the better, as the crowds start to come at around 9:00 AM. Tickets cost $18.00 USD per person. You can purchase in person right before, or ahead of time. Click here for their website.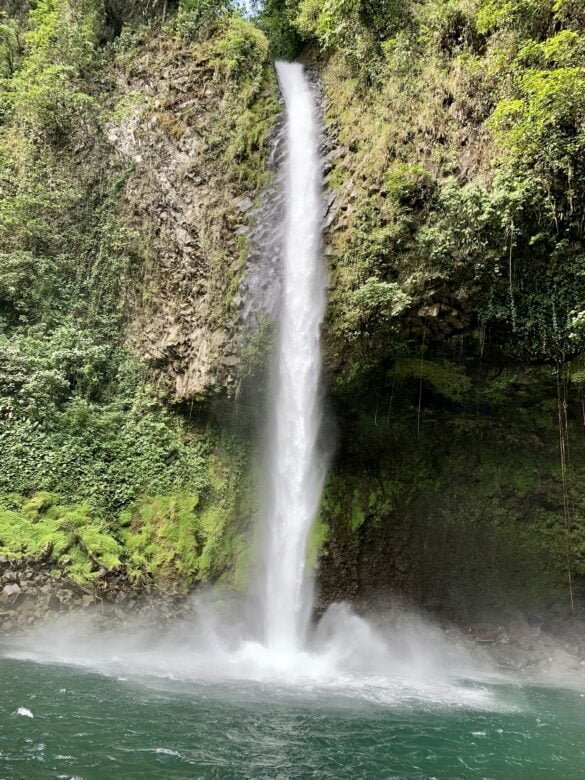 Once you enter the park, you will have to walk down ~500 steps to the waterfall. The way down is easier than up, spend some time down there to avoid walking up right away. We did the walk in sandals and running shoes without any issues. The stairs are well maintained (as per the above pic). However, please note access to the waterfall is not accessibility friendly!!
Enjoy the water and go for a swim. This was my favourite place in all of Costa Rica.
Lunch:
Head to Gecko's Waterfall Grill for lunch after your big walk up the 500 steps.
Afternoon: Arenal Volcano National Park
After an early lunch, head over to Arenal Volcano National Park. From town, this is about a 30 minute drive. Spend the rest of the day exploring this wonderful National Park and it's many trails.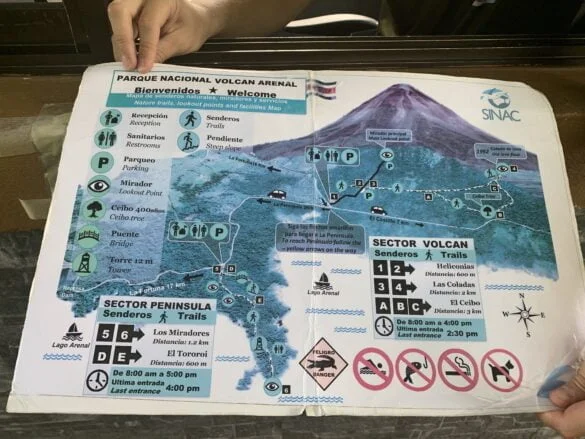 Entry into the park is $15.00 USD per person. The park is open from 8:00 AM – 4:00 PM. I recommend spending as much time as possible in this park. We spent the entire afternoon and were able to walk every single trail (surprisingly).
TIP: Download the free app, AllTrails. You can use them offline for trails. I have used the free version for years and strongly recommend them for hiking!
I discuss the trails in more detail in my Arenal itinerary.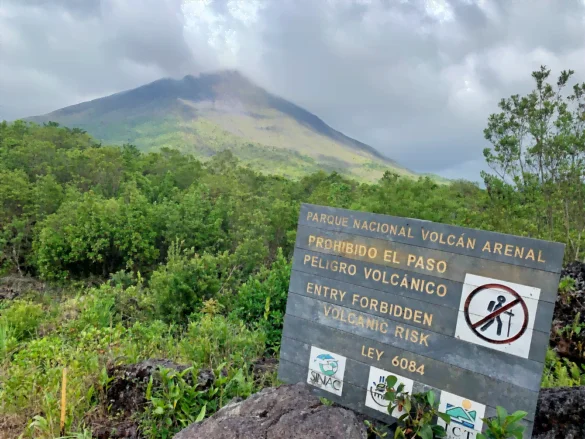 Evening:
Treat yourself to a pizza dinner at Restaurante Café Mediterráneo.
Day 3: Arenal
Massage & Thermal Resort & Spa
Morning: Breakfast & massage
Start and end this day in relaxation mode. You are in paradise and you worked hard hiking yesterday. It's time to relax!
Grab some smoothies in town at Frutas Y Verduras Hnos Lazo. Find yourself a masseuse in town or spend a full day at a hot spring resort.
In town there are a number of vendors offering massages for an affordable price. We found this company Serenity in town and just walked in to see if they had any availability. To our luck they were available!
We had a couples massage for $80.00 USD for an hour and it was one of the most relaxing massages I have had. The massage helped kick start our relaxation day, additionally, the price point helped.
Afternoon: Tabacón Thermal Resort & Spa
After a wonderful massage, we drove over to Tabacón Thermal Resort & Spa. We purchased a day pass with 1 meal (dinner), for $90.00 USD each. There are a number of packages which I detail in my spa blog post. I recommend purchasing a full day pass with one meal.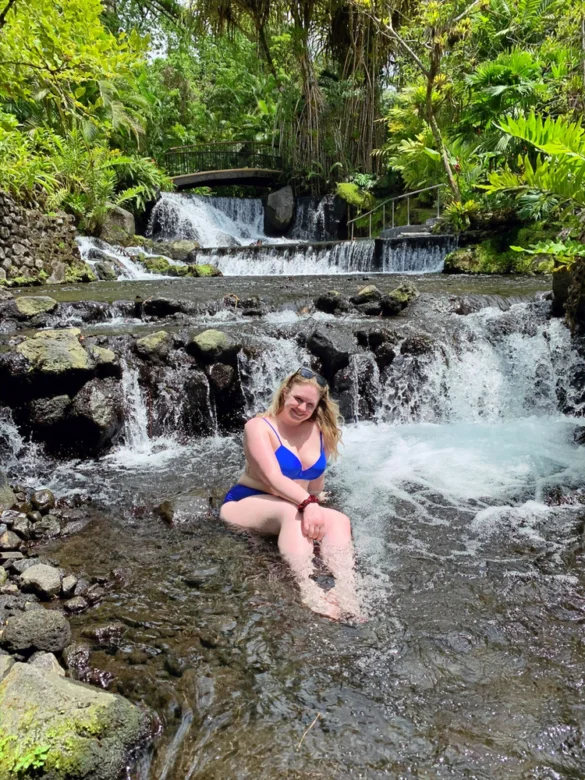 Tabacón is HEAVEN on earth. There are a number of thermal resorts and hot springs in Arenal. We chose Tabacón, and we were SO happy. Enjoy this gallery and check out my hot springs blog post to choose yours!
Day 4: Arenal -> Monteverde
Mistico Hanging Bridges & Santa Elena
Morning: Mistico Hanging Bridges
It is time to say goodbye to Arenal and drive to Monteverde. On the way to Monteverde is Mistico Hanging Bridges (just 30 minutes drive from La Fortuna)! I strongly recommend you stop and spend a few hours here. It is magical. Entry tickets cost $26.86 USD per adult. I detail more of this excursion in my Arenal blog post.
***Important***
You need to book your ticket at least ONE day in advance. I completely forgot this fact, showed up to the entrance and we were turned away. We parked our car on the side and debated what to do.
While we were pulled over, the staff at the entrance let us know that it was not full at the park and we were able to purchase a same day ticket. Do not take this risk like we did and buy ahead online.
You also must wear closed toe shoes at this park.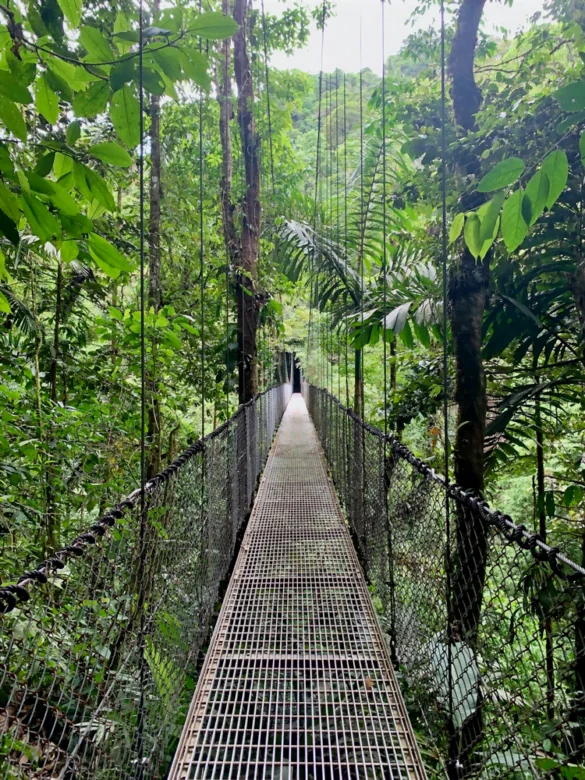 Afternoon: Driving to Monteverde & Santa Elena
Drive the 2.5 hours from Mistico Hanging Bridges to Santa Elena, town. Enjoy the beautiful views on highway 142 as you pass Lake Arenal.
Stop for an iced coffee & treat at Café & Macadamia on the way to Monteverde. The views from this café (photographed here), are so gorgeous and the iced coffee was delicious.
*SIDE NOTE*: There will be signs along the way for a German Bakery. We also stopped at this bakery for a treat, I would not go back to this bakery. It is heavily advertised and the pastry was stale. Go for Café & Macadamia instead.
Once you get closer to Monteverde, the views will change to green pastures, hills, and sweet animals!
Santa Elena
When you get to Santa Elena, park your car and walk around this sweet town. Grab a bite to eat at Tico Y Rico for traditional Costa Rican cuisine or grab an iced coffee at Panaderia Jimenez (can you tell I like iced coffee?).
Head to your Airbnb/Hotel:
I detail our experience at a finca (farm) Airbnb in Monteverde in my Monteverde blog post. If you have the chance, (and a 4×4 vehicle), I recommend staying at a finca to get a full Costa Rican experience. Our Airbnb had sheep & horses. We got to spend time feeding the sheep and hanging out with the horses while they were bathed. It was amazing!!
Good night!
Day 5: Monteverde
Ziplining & Monteverde Cloud Forest
Morning: Ziplining at Sky Adventures Park
This 10 days Costa Rica itinerary would be incomplete without a ziplining / canopying tour. Check out my ziplining blog post review for the details. Do not leave this activity out when planning your trip to Costa Rica and/or the Monteverde region. It is AMAZING!! I recommend Sky Adventures Park, which I also detail in my ziplining blog post!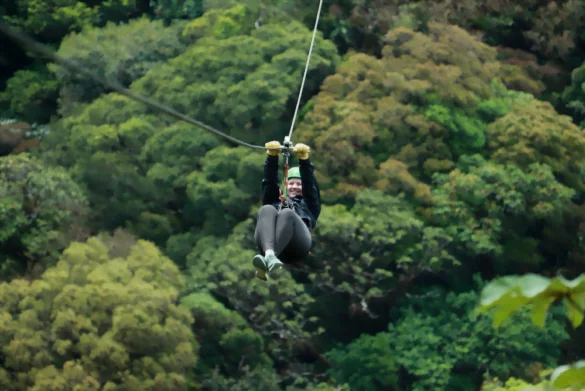 Look, how beautiful!!
Lunch:
Have a delicious pizza lunch at Bon Appetit!
Afternoon: Monteverde Cloud Forest & Biological Preserve or Santa Elena Cloud Forest Reserve
After your adrenaline rush while ziplining, spend some time at one of the cloud forests in this area. You can also opt for the hanging bridges walk at the Sky Adventures Park (this can be purchased as part of a package with your zipline tour).
We chose to spend time at the Monteverde Cloud Forest & Biological Preserve. An adult entrance fee ticket is $25.00 USD. I break down the cloud forests in my Monteverde blog.
If you do choose to go to the Monteverde cloud forest, please be advised that you must pay for parking at the parking lot below and they shuttle you up to the cloud forest.
If you have not seen hanging bridges yet and are dying to at this park, ensure that it is open to visitors. When we were about to head over, we were told that the hanging bridge was closed for maintenance.
Day 6: Monteverde -> Guanacaste Province; Playa Flamingo
Monteverde to Guanacaste – Playa Flamingo Sunset Cruise
Morning: Drive from Monteverde Region to Guanacaste Province
Before you head out for your drive, grab some breakfast at Choco Café Restaurant & Coffee Shop in Monteverde.
Once you're good & full, head out for your drive to Guanacaste Province!
The drive from Monteverde to Tamarindo is about 3 hours & 10 minutes, to Playa Conchal is 3.5 hours and to Playa Flamingo is 3 hours & 15 minutes.
Afternoon: Playa Flamingo boat cruise!
A Costa Rica boat cruise is a must when you are in Guanacaste Province. Choosing which company to sail with can be very overwhelming as there are a number of them.
I am sure each company has their pros and cons, however, I did some extensive research and review reading and was extremely happy with our choice of Lazy Lizard Sailing.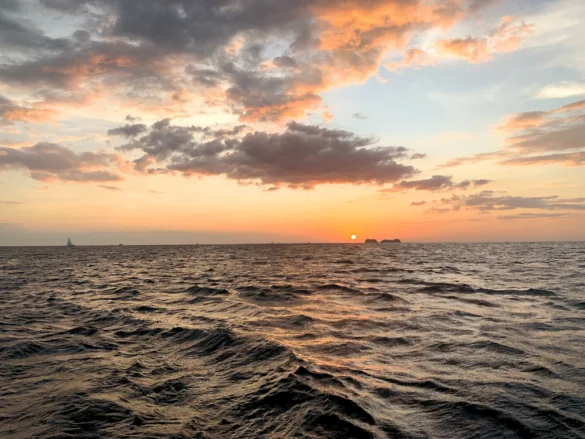 Companies usually offer a morning/day cruise and a sunset cruise. We chose the sunset cruise with Lazy Lizard Sailing.
I mean, look at the colours in these photos, how can you not want to see this at sunset. The sunset cruise still gives the opportunity to snorkel as they start at 2:00PM and go until dark! They also serve unlimited drinks and a late lunch on board, (which included delicious tacos and salads).
Visit here, Lazy Lizard Sailing to book tickets in advance.
Morning/Day Cruise Tickets: $85.00 USD per adult, $65.00 USD per child (<12 years)
Sunset Cruise Tickets: $90.00 USD per adult, $70.00 USD per child (<12 years old)
I highly recommend this tour, we loved every minute of our sailing experience.
Other Highly Rated Catamaran Companies:
Day 7: Guanacaste Province; Playa Conchal
Playa Conchal beach day
Morning: Grocery store
One of the most underrated things I love on vacation is grocery shopping. I love to get local snacks and try new foods that I can't find in Toronto (or find easily). I love trying different baked goods and chip flavours.
Head to a grocery store and purchase some snacks to take on your beach day!
There are a number of different markets or small convenience stores all over Costa Rica. Some bigger stores that you will see around include; Mega Super, Maxi Palí and Super Económico.
Late Morning/Early Afternoon: Head to Playa Conchal
Unless you are staying at the W Costa Rica – Reserva Conchal hotel, you will most likely have to drive or walk a slight distance to get to Playa Conchal.
Driving from Huacas on highway 180 all the way to the beach, there is some parking spots close to to the restaurants or there is a free parking lot at this address: C653+762, Guanacaste Province, Brasilito, Costa Rica
Another entrance to Playa Conchal is to the left side of the beach. On google maps this is titled Puerto Viejo (there is a parking lot across from restaurant El Encanto).
Playa Conchal is worth a visit on  your 10 days in Costa Rica. It is revered as one of the best beaches in Costa Rica, Explorers Away even lists it as their number 1! (They also list some other amazing Costa Rica beaches you should check out)!
The ground is full of tiny seashells and it is a sight to see. We parked ourself closer to Puerto Viejo and spent the day here, as it was closer to our Airbnb. This area is also sandy and was more comfortable for us to hang out on!
Dinner:
Head to La Casita Del Pescado for a delicious and VERY affordable meal. If you want to have more fun, there are some bars close by to enjoy. We stopped in at Pacific Palms at Conchal for a drink.
Day 8: Guanacaste Province; Tamarindo
Tamarindo
Tamarindo is the main surfing hub of Costa Rica. It is one of the most popular destinations within the country and one that many spend their whole trip in, making it a tourist hot spot.
Although it is tourist heavy, Tamarindo is a VIBE. It is definitely the place to be in Costa Rica for a fun time.
Morning: Surfing school OR Shop around town
Surfing is a must in Tamarindo. Please let me know if you went to any of these surf schools, I would love to hear about your experience!
Many surf camps/companies in Tamarindo also have lodgings and hostels where you can purchase stay & surf packages.
Afternoon/Evening: Playa Tamarindo, Dinner
Spend the rest of your afternoon & evening lounging on Playa Tamarindo. Enjoy people watching, listening to the music of the close by bars/restaurants.
Dinner:
Grab some dinner at El Mercadito De Tamarindo. There is something for everyone here, think of this place as a fancy food court, affordable with many options. We chose the arepas at Doña Ana, INCREDIBLE.
After you have enjoyed a tasty dinner, maybe had some ice cream or a few drinks, make sure you head back to Playa Tamarindo for the grand finale! Truly one of the most breathtaking sunsets.
I think I have 1000 photos of that sunset on Playa Tamarindo. It was fabulous. End your perfect day on the beach!
Day 9: Guanacaste Province; Playa Minas
Playa Minas beach day
All day: Beach day at Playa Minas
Playa Minas was our favourite. It is private, secluded and not known by many tourists. Our Airbnb owner shared it with us and we are so grateful!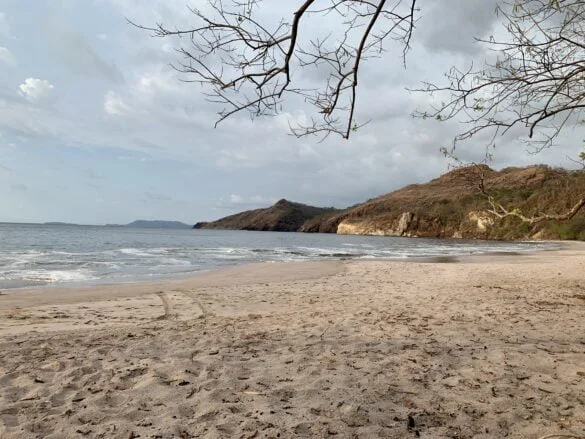 The beach is called Playa Minas, however, it is a bit challenging to find on a map. Another name you can use to search is "Playa Zapotillal".
How to get to Playa Minas
If you can put this address into Google Maps, I advise this first: 95XC+372, Provincia de Guanacaste, Puerto Viejo, Costa Rica
If you are coming from Huacas you will go southwest on highway 933 for 2km.
You will then make a right turn at Parada de Buses La Garita.
From here, you will drive about 5km, and then turn left onto Playa Real.
Then 1km later turn right onto Playa Mina. Once you are on Playa Mina the beach will be seen in 1km where you can park your car wherever you would like!
Evening: Catch the sunset & dinner
Wherever you are catch the beautiful sunset that falls upon this region. We chose to spend it at our Airbnb close to Playa Conchal.
Dinner:
We had driven by this park lined with food trucks in Huacas one day and decided we had to try one of them for dinner. We chose Origami Street Food CR and I still think about the bao I had, to this day.
If you have the opportunity to try this food truck, do not miss out. Below is a photo of the food and a menu, take a look for yourself!
Enjoy the rest of your evening. Grab drinks or head to bed!
Day 10: Guanacaste Province -> Airport -> Home
Drive to the airport & head home
Head to the airport (LIR in Liberia being the airport in Guanacaste, or drive further to SJO ~4.5 hours) and say goodbye to beautiful Costa Rica!
Important Resources for your 10 Days Costa Rica Itinerary
I hope I was able to provide you with some tips for spending 10 days in Costa Rica. Let me know your favourite Costa Rica spots! I can't wait to go back!!