Last updated on June 4th, 2023 at 02:45 pm
The Icefields Parkway, also known as Highway 93 or AB-93, is the most scenic highway I have seen in Canada. This Alberta route can be done from Banff to Jasper or from Jasper to Banff, wherever you are planning to start, you are in for a treat. It is full of waterfalls, hikes, lakes, mountains and views aplenty! Continue reading this Icefields Parkway itinerary for one of the most gorgeous experiences of your life.
Many people choose to do this highway as a bus or shuttle tour. I have created an Icefields Parkway itinerary driving guide which will detail the Icefields Parkway best stops! Enjoy your road trip.
Some links in this post are affiliate. If clicked, I may receive a small commission at no extra cost to you.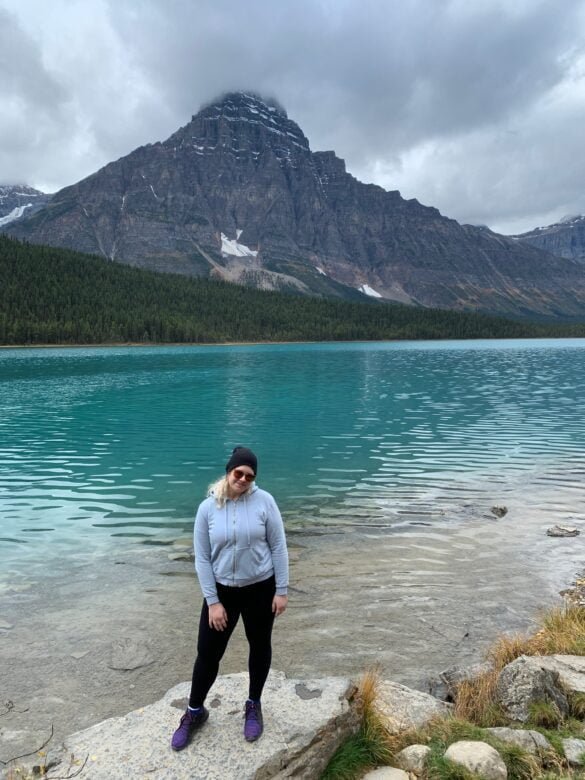 How many days to spend on the Icefields Parkway
Recommended amount of time to travel the Icefields Parkway: 2 Days
Some choose to do this drive in 1 day, in my opinion that is not long enough to take in all of the beauty.
How to get around the Icefields Parkway
Driving the Icefields Parkway
My recommendation for getting around the Icefields Parkway is to drive. You will want to take this highway at your own pace to go for as many hikes, take in as many views as you would like.
Do the math if you'd like, but the gas price for driving this highway is definitely cheaper than the bus routes available. The driving route can be done from Banff to Jasper or Jasper to Banff, your choice!
This itinerary will be Banff to Jasper.
Alternatively, you can start in Calgary and head to Banff to begin.
If you do drive, make sure to fill up on gas before you leave.
Bus
This bus route is offered from May to October annually.
You can start in either Banff Town (11 hour trip) or Lake Louise (10 hour trip).
This route does not stop at every stop in my itinerary, which you would be able to do if driving. They will stop at the main attractions; Lake Louise, Bow Lake/Crowfoot Glacier, Columbia Icefields and Athabasca Falls. The tour includes a picnic lunch.
Prices per tour:
Banff to Jasper: Adult: $282.00, Child: $140.00
Lake Louise to Jasper: Adult: $276.00, Child: $139.00
Prices updated June 2023.
Icefields Parkway Tours
If you are planning to visit the Icefields Parkway at a relaxed pace, a tour might be the best option for you.
Private and semi-private tours on the Icefields Parkway are not budget-friendly. Keep this in mind. It is much more affordable to do it on your own or on a bus tour!
Click here for a small group tour from Banff.
Click here to check out private tours starting in Calgary!
Where to stay on the Icefields Parkway
From North to South
Where we stayed for our Icefields Parkway Itinerary
Sunwapta Falls Rocky Mountain Lodge Resort
2-3 Star Hotel, Rated 4-Stars on Google
Average cost: $300.00 – $350.00 per night
Open: May – October annually
Location: 55 km south of Jasper
Our Experience: We absolutely loved our stay at Sunwapta Falls Rocky Mountain Lodge Resort. Sunwapta upgraded us to a cabin with a fireplace, it was very romantic.
They also gifted us with sparkling wine as they knew it was our anniversary trip. After touring around the scenic highway all day, the fireplace and sparkling wine were cozy and relaxing.
There was limited cellular service at the hotel as well as on the highway, this did not bother us as we were only staying for one night, however, keep that in mind when booking.
This was one of our favourite places to stay while visiting Alberta, I hope you enjoy it as well!
Click here for Sunwapta Falls Rocky Mountain Lodge Resort prices & deals!
Hotels on The Icefields Parkway
3-Star
Average cost: $250.00 – $400.00 per night
Open: May – October annually
Location: 104 km south of Jasper
Num Ti Jah Lodge/ The Lodge at Bow Lake
3-Star
Average cost: $850.00 per night avg.
Open: May – October annually
Location: 194 km south of Jasper, 39km north of Lake Louise
4.7 star Google rating
Average cost: $90.00 per night
Open: Closed for most of the winter, however, check availability as it is open for holidays!
Click here to check out HI-Athabasca Falls Hostel prices & deals!
Important Resources for your Icefields Parkway Itinerary
To enter the National Park(s) you will need a park pass/discovery pass which can be purchased here
You will need bear spray if you plan to walk along their many trails. This can be purchased at the Visitor Centres of each park. Do NOT attempt to carry this on the plane, it will be confiscated.
Free APP for your smartphone: Alltrails. This free app is AMAZING for looking up and downloading hikes. You can use the app offline, which helps if you are visiting from afar. Be sure to download this free app for your trip!
Icefields Parkway Itinerary
From Banff National Park to Jasper National Park
Welcome to the breathtaking wonderland known as the Icefields Parkway! Nestled amidst the heart of the Canadian Rockies, this legendary highway stretches for miles and miles, connecting Jasper National Park & Banff National Park.
Fasten your seatbelts, grab your camera, and embark on this GORGEOUS Canadian journey through glaciers, mountains, wildlife and MORE!
Start: Lake Louise
The southern starting point to the Icefields Parkway is no other than the famous and STUNNING Lake Louise.
I do not recommend grouping Lake Louise in your Icefields Parkway trip. Lake Louise needs its own day of exploration, so try and make time to do that elsewhere and use it as your starting point. I discuss Lake Louise in my Banff itinerary!
Stop 1: Herbert Lake
<Drive 31 km north>
Stop 2: Lake Helen, Crowfoot Glacier, Bow Lake Viewpoint
<Drive 7 km north>
Stop 3: Peyto Lake
The exit to Peyto Lake is at Bow Summit. Unfortunately, Peyto Lake was closed for us due to maintenance and safety.
As of October 2021, it is now open to the public.
Stop 4: Waterfowl Lakes
There are hiking trailheads at this stop that go around Chephren lake here.
The canyon is short downhill walk from the parking lot, you won't miss it.
Stop 6: Saskatchewan River Crossing
This stop on the highway has a gas station and a restaurant. We were able to get stable cellular reception at this stop. Look out for the crows at this location, they are the LARGEST we have ever seen.
Stop 7: Weeping Wall Viewpoint and Waterfall
I am embarrassed, we completely missed this stop, whoops!!
Stop 8: Big Bend Viewpoint & Bridal Veil Falls
Stop 9: Parker Ridge Hike to Saskatchewan Glacier
Difficulty level: Moderate
Length: 6.4 km / 2.5 hours
Download the free app Alltrails here, I highly recommend it for saving hiking trails. It can be used without service as well (which will come in handy during hikes).
We wanted to do this trail so badly, however it was cloudy and raining and the views would not have been worth the trek to us. The trail below is similar and I would probably choose between your favourite. Parker Ridge tends to be the favoured trail.
<Or Drive 8.7 km north to another hike>
Stop 10: Wilcox Pass Viewpoint via Wilcox Pass Hike
Difficulty level: Moderate
Length: 9.3 km / 3.5 hours
We also were unable to do the hike due to the weather. Locals told us that Parker Ridge had better views, however, this hike is also very popular. I have the hike linked here on Alltrails.
Stop 11: Columbia Icefield Discovery Centre
Includes: Discovery centre, Columbia Icefield Skywalk, Athabasca Glacier & Sunwapta Lake
When driving northbound on the Icefields Parkway, you will see the Columbia Icefield Discovery Centre on your right hand side. This is the hub for the activities surrounding the Columbia Icefield Skywalk. They have restrooms and a restaurant here.
You cannot physically drive yourself to the Skywalk, you have to park your car in their parking lot and get onto their shuttle bus to the Skywalk. We purchased this activity as a package along with the Banff Gondola and Maligne Lake Cruise.
Once you've finished up with the Skywalk, head across the street to the Athabasca Glacier (pictured above), and Sunwapta Lake (below).
The Athabasca Glacier has markers showing how large the glacier was years ago. It is very eye opening to see the effects of global warming and how much the glacier has moved/melted in such a short period of time.
You are able to walk up to the glacier, however, if you want a unique and fulsome experience, go on a guided hike of the Athabasca Glacier.
Click here for a hiking tour that will have you in awe of the mountain views, and glaciers.
Stop 12: Stutfield Glacier Viewpoint
I did not get a good picture, go see for yourself and send me a pic!
Stop 13: Sunwapta Falls
The Sunwapta Falls were located about a 5 minute walk from our hotel, Sunwapta Falls Rocky Mountain Lodge.
These falls are not as large as the Athabasca Falls you will be seeing in a few stops, but don't discount them, they are beautiful as well.
Stop 14: Goats & Glaciers Viewpoint
The goats are famous for hanging around this area and licking the salt fields. Unfortunately, we did not see any goats here. We did see them at the Skywalk though, so keep your eyes peeled! This was still a beautiful view.
Stop 15: Athabasca Falls
Stunning, all I can say.
Stop 16: Valley of the 5 Lakes
I do not recommend adding this hike to the Icefields Parkway itinerary. That is only because it was one of my favourite trails and I found it was an easy day hike to do during our stay in Jasper.
However, if you want to incorporate it during these two days, keep in mind it is about a 1.5/2 hour trail. Download the free App Alltrails here to have it saved on your phone!!
Difficulty level: Moderate (I would personally say this is easy)
Length: 4.67 km / 1.5-2 hours
This picture shows only 1 of the 5 lakes. They are all this beautiful, enjoy this trail, we spent a lot of time just relaxing on it and taking in the views. As with all trails, please bring bear spray. I have linked the trail here on Alltrails.
Stop 17: Jasper Town
Finish up the highway all the way to the town of Jasper! Head to my Jasper itinerary to get some inspiration on Jasper activities. Oh!! Don't forget to find some delicious Jasper restaurants to end your day with.
Busy? Pin it for later!
This highway is worth spending time on. Please do not rush it in one day, take it in and spend as much time as you would like taking it all in. I hope you enjoy it as much as we did!
This Icefields Parkway itinerary is something you can do over and over again and never get bored. The beauty is unmatched. Happy travelling!
Joanna Neander is the author and creator of Plan Before Land. She is dedicated to creating detailed travel itineraries from around the world. Joanna's most visited continents include, North America, Central America & Europe. Asia coming soon! Join along on Joanna's travels!