Last updated on February 25th, 2023 at 12:49 pm
The best restaurants, cafes & takeout in Jasper, Alberta
I had a hard time planning where to eat in Jasper before we got there. All of the lists and blogs I checked out online did not seem appetizing to me. However, I am here to say that I was pleasantly surprised at our food selection and options.
I ignored any previous research and reviews I read once we got there, and we sought out the advice of locals on the best places to eat. With this information, I created a guide on the
best restaurants, cafes and takeout in Jasper, Alberta.
Jasper's restaurants and cafes are on and around the two main blocks of downtown Jasper. They are all within walking distance of one another and from Jasper's hotels. You will find plenty of places to enjoy a nice meal.
If you are nervous to try something new, Jasper has chain restaurants; Montana's BBQ & Bar and Earls Kitchen + Bar (nothing against them, I crave Montana's from time to time), but I encourage everyone to branch out and try Jasper's unique restaurants.
Below are the places we enjoyed!
Best Restaurants & Cafes in Jasper, Alberta
Address: 624 Connaught Dr, Jasper, AB T0E 1E0
Jasper Brewing Co. is a great pub for laid back vibes, beers and pub food. It was Canada's first National Park Brewery and their beers are amazing. I am not a beer drinker by any means and I truly enjoyed this experience.
If you are like me, and have minimal to no knowledge on craft beers/beers in general, seek out the advice of the bartenders and make yourself a sampler, (which includes six 4oz glasses of beer). My favourite was the
Babe Blueberry Vanilla Ale
.
In regards to the food, it is pretty standard pub fare, with a little Albertan twist ie. their Rustic Elk Meatloaf. Get whatever you are craving, you cannot go wrong!
Address: 402 Connaught Dr, Jasper, AB T0E 1E0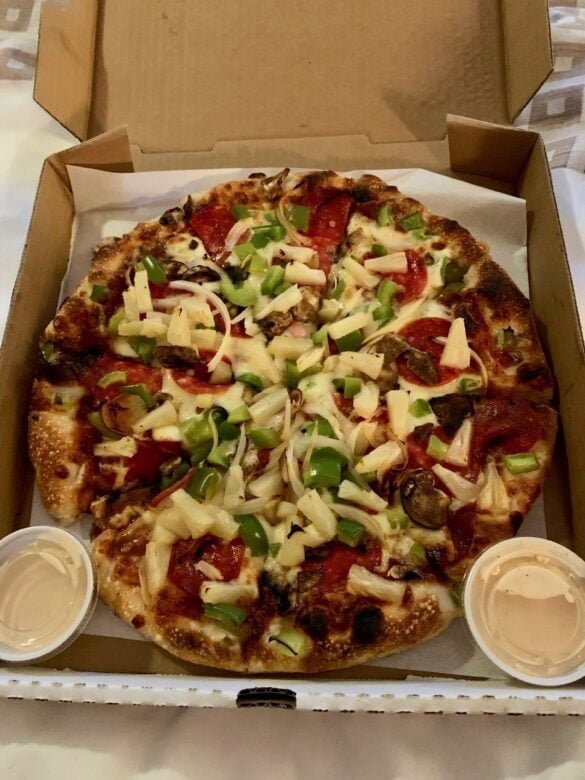 After a long day of hiking, we decided to get takeout! We wanted pizza and to enjoy an evening in our hotel bed watching cable, specifically, HGTV. I love a night out on the town, but sometimes eating in a hotel bed just hits the spot.
Jasper Pizza Place is a little on the pricier side for takeout, ~$30.00CAD per 12" pizza, but it was worth it in my books. It is a restaurant, and you can dine inside (within COVID19 guidelines, of course). If you are not in the mood for pizza, they also serve a number of different pub food options (burgers, pastas, wings, salads, etc).
For takeout, we ordered the JPP Deluxe, which includes pineapples, pepperoni, mozzarella, ham, mushrooms, red onions and green peppers. Don't come for me (re. the pineapple), trust me on this one, it was delicious! We also ordered the garlic sauce, pizza is incomplete without it.
Address: 504 Patricia St, Jasper, AB T0E 1E0
The Raven Bistro is a MUST when you are in Jasper. Their cuisine is a fusion of Mediterranean food with local Albertan cuisine. It was one of our tastiest experiences in Alberta, my favourite Jasper restaurant. The restaurant is on the pricier end for Jasper, however, the prices are warranted with the level of expertise and love put into these dishes.
The only negative I take from this experience is that I did not show up to the restaurant HUNGRIER!!
For appetizers, we ordered the Mediterranean Mussels and the Moroccan Baked Brie. We shared The Three Pharaohs for our entree, which is a platter of beef, chicken and lamb, topped with lemon and garlic tahini and served with orzo and grilled naan.
The next time I am in Jasper, I will 110% be back to this restaurant. If you only have one night to spend in Jasper town, I highly recommend you make this place a priority.
Address: 4 Pyramid Lake Rd, Jasper, AB T0E 1E0
Address: 610 Connaught Dr, Jasper, AB T0E 1E0
I went to The Bear's Paw Bakery every single morning. One day, I went twice.. I know, extra. Their pastries and baked goods are so yummy, they bake them all from scratch daily, with day-old baked goods just as tasty and at a great discount, perfect to bring with you on a hike or a long drive.
The cappuccinos and lattes are so comforting and a lovely additive to your pastry. Their sweets are my favourite, including their pecan chocolate chip bites? (balls? I can't remember exactly lol). They also make a very good pizza bun.
When you want to switch it up a bit, head over to The Other Paw Bakery Café, which is from the same owner and just around the corner, also serving amazing baked goods!
You are able to sit down and enjoy the café or, takeout some treats for your hike!
Address: 610 Patricia Street &, 2nd floor, Jasper, AB T0E 1E0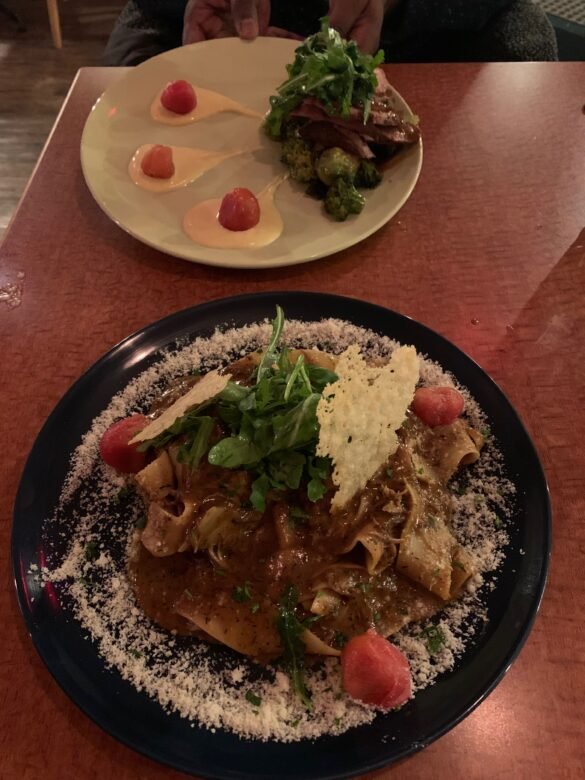 ALBA Restaurant is a basic Italian restaurant in downtown Jasper. The look of the restaurant is on the casual side, with wooden tables and chairs, the ambience/vibe is lacking, but don't let that dissuade you from the food they have to offer.
ALBA Restaurant is a good place to get large portions at fair prices.
Address: 618A Patricia St, Jasper, AB T0E 1E0
BeaverTails is a Canadian staple. I highly suggest you try a BeaverTail if you haven't yet. They were founded in Canada, but have now branched out to a few other countries in the world, including the USA.
They have a number of different options for toppings, including Skor Cheesecake and apple pie, but my favourite is The Classic, with cinnamon & sugar sprinkled on top.
Make sure to check out my Jasper 3 day itinerary blog post
to figure out how to fit in these delicious spots! I hope you enjoy Jasper's restaurants and cafes as much as I do. Let me know your thoughts down below!
Joanna Neander is the author and creator of Plan Before Land. She is dedicated to creating detailed travel itineraries from around the world. Joanna's most visited continents include, North America, Central America & Europe. Asia coming soon! Join along on Joanna's travels!