Last updated on March 23rd, 2023 at 09:18 pm
So… you want to visit Porto, Portugal but don't know where to begin? Or you're in the midst of planning your trip but are getting stumped on the logistics? Don't worry, I have written a detailed post on Porto Itinerary Planning. Continue reading to get all the facts before you visit this wonderful city.
If you want to jump straight to the
3 Days in Porto Itinerary, go to this blog post
.
Some of the links in this post are affiliate. If clicked, I may receive a small commission at no extra cost to you.
How many days do you need in Porto?
Recommended length of stay in Porto: 4 days if adding a day trip to the vineyards of Douro Valley.
Our stay: 3 days in Porto, with an added day in Douro Valley.
When to visit Porto & Porto Weather
Porto Summer
Porto is one of those cities that is gorgeous year round. Their summers (July – September) are quite hot, with little to no rain, averaging 23°C – 25°C. It is cooler than other areas in Portugal. I personally enjoyed visiting in July and am returning again in July with no reservations about the weather. 
I found their weather fresh, despite being hot. Comparatively, Lisbon can be MUCH hotter during this time.
Porto Autumn/Winter
Porto's autumn & winter is mild and can be wet. Their fall months (October & November) can see temperatures ranging from 9°C – 20°C, large variability, with an average of 10 days of rain.
Winter is colder (December – February), although, comparing it to Canada, I would prefer this 6°C – 15°C range & an average of 10 days of rain.
Porto in Spring
Porto in spring is mild, similar to autumn, ranging from 9°C – 20°C. 
If I was to pick the ultimate time to visit Porto, I would choose the end of spring (for the best temperature), and/or summer for the least amount of rain.
How to Get to Porto
Flying to Porto
A) Internationally
Porto is fairly easy to get to from most countries. Their airport, Francisco Sá Carneiro Airport (OPO), has international arrivals and departures daily. 
Portugal's airline, TAP Air Portugal is an affordable airline to fly with. Majority of the flights from North America have a stop in Lisbon with TAP. Keep this in mind when booking.
Some of the major airlines that fly directly from North America to OPO are; Air Transat, American Airlines, United Airlines & TAP. Other airlines do fly into OPO, however, you are most likely going to have 1-2 stops. 
I recommend keeping an eye on prices well in advance, (approximately 11 months out), to monitor fluctuations in prices. For reference, I have found roundtrips for ~ $700.00 CAD from Toronto to Porto, and most recently have seen ~ $800.00 CAD round trip, with non stop flights (early 2023 booking for summer).
B) Within Europe
Flying within Europe is a different ballgame. It is simpler, cheaper and truly just the best.
Europe has cheap airlines; Ryanair & Easyjet, but they also have TAP and other European airlines flying to and from these locations for GOOD prices. In exchange, you'll have to travel light (checked baggage comes with an extra fee).
Prices will depend on how far you are flying, how far in advance you are trying to book & more. However, you can see prices anywhere from $20.00 – $300.00+ (CAD) – majority will be on the lower end, averaging the ~$150.00 mark for one way flights.
Compare flights on Skyscanner to find the cheapest flights!
Train or Bus to Porto
There is a high speed train the runs through Portugal. Tickets can be purchased in advance and can start around 10 Euros one way. The quickest train rides from Lisbon are just under 3 hours, where as their other trains are about 3 hours and 20 minutes. I like to use Omio for finding transportation.
Omio also offers bus/flight options where you can compare the price and length of each trip.
If travelling within Portugal, trains or buses are a great option. They are safe, reliable and relatively on time. We used coach buses and trains while staying in Portugal and had great success.
If travelling to Portugal from another country, even Spain, I would not recommend this method unless your budget requires it. As an example, it can take about 8-9 hours via train from Madrid to Porto.
Driving to Porto
Driving to Porto may be an option for some, however, I only recommend this if you are coming from other areas in Portugal (ie. Lisbon) OR the neighbouring country, Spain. Even then, depending on where in Spain you are driving from you will most likely have a long drive ahead of you.
For example, driving from Madrid, Spain to Porto, Portugal will take about 5 and a half hours; including tolls and border crossing. Alternatively, a 1 hour flight from Madrid would most likely cost you ~$100.00 CAD. 
Driving from Lisbon will take about 3.5 hours (on toll routes, Route A1 or A17) or 6 hours (without tolls).
Take some time & think about it, but I recommend flying or the train! If not, check out Rental Cars.
How to Get Around Porto
Porto is a very user friendly city. By that I mean, walking & transit is spectacular! I am always comparing everything to Toronto's TTC, so to me, everything is fantastic (lol).
Walking
Majority of our time in Porto was done by walking. We love to visit European cities and walk all day. If this is not your style, there are other ways to get around!
Metro / Buses
Porto's metro has 6 lines. The major stations that are close to tourist destinations are; São Bento (which, in itself, is a tourist destination), Aliados and Trindade (which connects all metro routes). Additionally, the metro goes to the airport.
Porto's metro & bus system is open from 6:00 AM until 1:00 AM. Trains arrive every 4-15 minutes.
$$$ Cost $$$
Single ticket: 1.20 Euros
1. Andante Card
Rechargeable card for buses, metro & trains

The physical card costs 

0.60 Euros

The 

Andante Tour

 card is a good option if you are a tourist. 

You can purchase the 

24 hour 

Tour

 

card (

7 Euros

) or 

72 hour

 card (

15 Euros

) and can travel between 

all metro zones. 

Andante 24 

is a 24 hour card,

 ranging from 

4.20 Euros – 7.00 Euros

; this card expires at the 24 hour mark

There is the option to purchase 1 or 10 tickets on your Andante card, however, prices vary depending on which zones you will be travelling to. 

Stick to the 

Andante Tour card

 if you are unsure, as you have access to all zones. 

This card can be purchased at the airport or any metro station.

Furthermore, if you want to visit many monuments, museums while in Porto, I suggest the 

Porto + Transit card for ease

, keep reading below! 
13.00 Euros (1 day) 

20.00 Euros (2 days)

25 Euros (3 days)

33.00 Euros (4 days) 
*The Porto card also comes with entry to 6 museums and 50% off monuments & landmarks. This card can be sold without a transit card (Pedestrian Card). 
It is recommended you purchase this card ahead of time online or in the airport (OPO), to start using it right after landing.*
Trams
This is more of a fun tourist adventure, which I suggest you try at least once. If it helps you get from point A to point B while enjoying your time in a vintage tram, win-win. 
There are three tram lines in Porto. They run from about 9:00/10:00 AM – 6/7:00 PM (depending on the line). 
A single tram ticket is 3.50 Euros, 2 tickets for the same day costs 6.00 Euros. Up to you! We took a one-way tram for the fun of it!
You can also purchase a package that includes; 24 hour access to Tram services, 1 Ride on the Funicular and 2 Hop on Hop off Tickets.
Driving
In my opinion, driving in Porto is not necessary, as walking and the metro are simple to use. I personally think it is best to see this city on foot! 
You may be asking yourself, "what if I want to do day trips?" Don't worry!! You can easily join a tour group that provides transportation for you. However, if this still does not satisfy you, renting a car can be done.
Just be mindful that a lot of Porto's streets are small and one way. Parking is not readily available in a lot of tourist areas in Porto. I do not recommend driving within the city centre. Take a taxi or Uber if you really have to.
If you are only planning to use the car for day trips OUT of the city, I think you should be ok! 
That being said – if you would like to rent a car check out Rental Cars.
Taxi & Uber 
Taxis are a good option for those times you don't want to walk or take public transport. 
A taxi costs ~6.00 Euros in/around the city centre. Uber costs ~5 Euros. If you are going to and from the airport the cost can be anywhere from 15 Euros – 25 Euros for either taxi or Uber.
Where to stay in Porto 
Where you will sleep is an important part of Porto itinerary planning. I list a number of hotels of each budget type below.
High End / Luxury Porto Hotels
Torel Palace Porto: $400.00 – $600.00 CAD per night (high season), $300.00 – $400.00 CAD (low season)

In HEART of Porto, 5 minute walk from São Bento Railway Station

Swimming Pool

Breakfast included
Maison Albar Hotels Le Monumental Palace: $450.00 – $1000.00 CAD per night (high season), ~$400.00 CAD per night (low season)

In HEART of Porto, 7 minute walk to Clérigos Tower

2 restaurants

Swimming Pool

Spa
PortoBay Flores: $400.00 – $600.00 CAD per night (high season), $200.00- $300.00 CAD per night (low season)

In HEART of Porto

Restaurant 

Spa

Swimming Pool
Mid-Range Porto Hotels
Eurostars Aliados: $200.00 – $400.00 CAD per night (high season), ~ $200.00 CAD (low season)

Centre of Porto; 7 minute walk to Clérigos Tower

Right next to Aliados metro

Spa
Chic & Basic Gravity: $150.00 – $250.00 CAD (high season), $100-150 CAD (low season)

Centre of Porto: 8 minute walk from São Bento Station
Porto Royal Bridges Hotel: $150.00 – $200.00 CAD (high season), $100.00-$150.00 CAD (low season)

Centre of Porto; 2 minute walk to São Bento Metro Station
B The Guest Downtown: ~ $150.00 CAD per night (high season)

Centre of Porto

Breakfast included – can be served in your room
Hotel Carris Porto Ribeira: $170.00 – $200.00 CAD per night (high season), *can be close to $350.00 CAD per night from Jan – April.

In the Ribeira district (my favourite district)

Overlooks the Douro River

5 minute walk from São Bento Railway Station
Budget Hotels Porto / Hostels in Porto
Lusitana Hotel: ~ $100.00 CAD per night (high season), ~ $90.00 per night (low season)

Centre of Porto

Terrace

Private bathrooms
The Poets Inn: $80.00 – $90.00 CAD per night (high season), $60.00 – $80.00 per night (low season)

Centre of Porto; steps away from Clérigos Tower

Breakfast included

Shared bathrooms & Private bathroom room choices
SUPERNOVA – Hostel & Cafe: $60.00 – $80.00 (high season), $50.00 – $70.00 (low season)

In Porto's historic district; 1 minute walk from Trindade Metro

Shared or Private bathrooms
Being Porto Hostel: ~$100.00 CAD per night (high season), $70.00-$80.00 CAD per night (low season)

Centre of Porto; couple minute walk to major tourist sites

Private accommodations 

Shared lounge/kitchen
Porto Airbnb
Airbnb is a great choice for accommodation in European cities. I love feeling like I am at home and living like a local. This is usually my preference, do what makes you feel comfortable and happiest! There is always room for the pampering & ease that hotels provide.
Porto has hundreds of Airbnbs waiting to host you. Check them out here!
Top Day Tours in Porto
We went on this tour in 2018 and still talk about it today. I send everyone I know on this tour. It was one of the most special experiences. We were picked up in a small air conditioned van by our tour guide who brought us from Porto to the Douro Valley.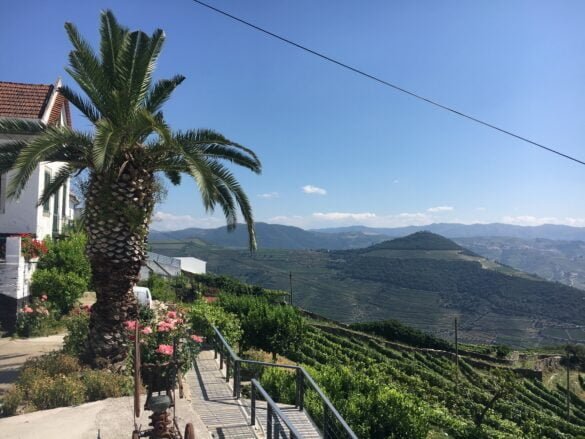 The tour took us to family owned/run vineyards, tried glass after glass of Port wine and had the best Portuguese food overlooking the vineyards. We visited an olive oil museum and ate a literal bowl of olive oil with bread (it was so good, I can't even explain). Our group had to physically stop ourselves. A 1- hour Douro River boat cruise is included in this tour, which, obviously is just a breathtaking experience.
We are still friends with the people we met in our group to this day!
If you do ANYTHING in Porto, carve out one full day for this tour. I promise, you will not regret it. I plan to do this tour each time I am back in Porto.
If a wine tour isn't your thing, check out this Douro River Cruise in Porto. This 1 hour boat cruise will sail along the Douro River passing Porto & Vila Nova de Gaia. You will travel under 6 bridges.
Admire the beauty and architecture of the cities around you while you sail in comfort!
The cruise is quite affordable and a great way to relax on the river.
A wine tour, a Fado music show & a wine tasting, can it get BETTER for $30-$40.00 CAD? No.
In the summer this tour is hosted in English at 6:30 PM and in winter at 6:00 PM.
This company offers FREE walking tours in Porto. I love free walking tours in Europe, it is one of my favourite ways to see and learn about the city.
If this interests you, I highly recommend checking out Porto Walkers. They have two free walking tours; The Classical Tour (at 10:45 AM) & The Lifestyle Tour (at 3:30 PM). Each tour lasts for about 2.5-3 hours. Some may find this lengthy, but you are free to go as you please! However, do not forget to tip the guide!
Porto Walkers is FREE, but does require reservations ahead of time. Head here to make your reservation.
If you feel like you have read enough about Porto itinerary planning, make your way over to my
3-5 Day Porto Itinerary
. It is very detailed so get ready for some INFO!